2020-21 Rivals League
2020-21 Rivals League
Date
2020-21
Location
MTG Arena
Winner
TBA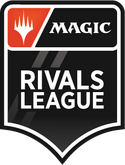 The 2020-21 Rivals League is the Rivals League played in the 2020–21 Players Tour Season. It is the second season to feature a Rivals League.
History
The 2020-21 Rivals League was originally planned to be the first Rivals League in a regular season.[1] At the start of the season, it was planned to consist of 46 players as follows:
1st–12th ranked digital players (not previously in the MPL)
1st–12th ranked tabletop players (not previously in the MPL)
Bottom 12 players from the MPL Gauntlet
The bottom 4 players from the previous MPL season
6 discretionary invites
However, with the cancellation of much of the 2020 Players Tour Season due to the COVID-19 pandemic, only the first Players Tour was completed. Hence, the 2020 Rivals league was to be retained, and sixteen players would be added.[2] Wizards of the Coast invited the top seven Mythic Points earning MTG Arena players who were not already a member of the MPL or Rivals League. From tabletop Magic, the top eight players in Player Point standings (not already a member of the MPL or Rivals League) were invited. While difficult circumstances allowed only one series of Players Tours events, they wanted to ensure those players who had tabletop success during the 2020 Partial Season were rewarded for their efforts.
In July 2020 it was announced that Rivals would play against each other in recurring tournaments—League Weekends—where each match would win awards one point toward their league standings.[3] Final league standings at the end of the season, after seven total League Weekends, could place players into the Rivals Gauntlet to determine the new invitees to the following season's MPL and Rivals League. All competitors who continued to succeed in their events across the entire 2020–2021 season—MPL, Rivals League, and Challengers—would receive the best opportunities for an invitation to the next World Championship.[3]
Structure
Splits
There are three splits during the 2020–2021 season:[3]
Zendikar Rising Split (ZNR) features two League Weekends (LW) — October 24-25 and November 7-8..
Kaldheim Split (KHM) will feature three League Weekends.
Strixhaven Split (STX) will feature three League Weekends.
In total for all League Weekends, the 48 Rivals League players were to compete in 84 matches — a maximum total of 84 points — across seven weekends. Across the first two splits, players would compete intraleague in a complete single-round-robin play against every other competitor, for 47 total matches (after the departure of Handy and Estephan a total of 45 matches). The third split will seed pools of eight or ten players each (as necessary for equal sized pools) based on league standings. Each Strixhaven Split League Weekend will reduce the players competing week over week, locking players into end of season placements and rewards. Each weekend results in the remaining top ranked Rivals League players by standings being invited to Magic World Championship XXVII, and the bottom seven ranked Rivals League players being removed from the following League Weekend.
There's a $200,000 prize pool divided across the three splits with $50,000 each, as well as an end-of-season bonus $50,000.
| Standing | Prize |
| --- | --- |
| 1-4 | $2,250 |
| 5-12 | $1,500 |
| 13-24 | $1,250 |
| 25-36 | $750 |
| 37-44 | $500 |
| 45-48 | $250 |
| Total | $50,000 |
Split Championships
Three Split Championships each form the culmination of a Split, featuring a $250,000 prize pool with remote play on MTG Arena. On top of League Weekends, MPL and Rivals players will earn points toward their league standings from each split's Championship:[4]
9 wins earn 1 point toward league standings (the same as winning one match during a League Weekend).
10 wins earn 2 points toward league standings.
11 wins earn 3 points toward league.
Making Top 8 of a split's Championship earns 4 points toward league standings.
Results
For the Rivals League, standings at the end of the season determine the next steps for that player:[3]
The Top 4 Rivals League players are invited to the 2021–22 Magic Pro League and qualify for Magic World Championship XXVII.
Rivals players 5th through 20th will compete for MPL invitation (and do not face relegation to Challenger) in the MPL Gauntlet.
Rivals players 21st through 32nd will battle fellow Rivals and Challengers for the last MPL invites (and do not face relegation to Challenger) in the Rivals Gauntlet.
Rivals players 33rd through 36th will retain Rivals League invitation for the 2021-2022 Rivals League.
Rivals players 37th through 48th will be relegated to the Challengers for the following season.
Roster
For this season, the Rivals League roster at first featured 48 players.[5] Besides all 32 players from the aborted previous season, these were the top eight Mythic Point earning players From MTG Arena who were not already a member of the MPL or Rivals League, and the top eight players in Player Points from tabletop Magic who were not already a member of the MPL or Rivals League. While originally there were fourteen new Rivals League slots available, there were ties between 7th and 8th place in both Tabletop (at 20 points)[2] and Arena (at 17 points),[6] so the invites were increased to sixteen. In October 2020, it became apparent that Eric Froehlich was no longer eligible to participate, because his wife had become a fulltime employee of Wizards of the Coast. He was replaced by Austin Bursavich.[7]
After the first Split Championship, both Jessica Estephan (12 wins) and Emma Handy (14 wins) resigned from the league. Estephan was about to emigrate to the US and had found a job that would take up all her time, while Handy had accepted an invitation to become part of the Play Design team at Wizards of the Coast.[8] Per league rules, Rivals members who leave the league mid-season are not replaced. Because both Handy and Estephan had played against some members of the league and not others, all their League Weekend match results (wins and losses) were voided.[8]
Points shown as after the first KHM League Weeekend.
References
Professional Play
Leagues and tournaments
Leagues

Tournaments

Discontinued