Fire Emblem Warriors: Three Hopes - The Loop
Play Sound
Atog

Creature Type
(Subtype for creature/tribal cards)
Beeble Scale
7[1]
Statistics

12 cards

8.3% 8.3% 8.3% 16.7% 8.3% 8.3% 8.3% 8.3% 8.3% 8.3% 8.3%

as of Mirrodin
Scryfall Search
type:"Atog"
Atog is a creature type describing a species of small creatures known for their insatiable appetites and unusual diets. Atogs come in a very wide variety of forms, but most uniformly possess a humanoid shape, a reptilian or amphibian appearance, bulging eyes, and enormous toothy mouths.[2] Some bear a slight resemblance to goblins. Atogs possess a glimmer of sentience but do not seem to have a society as such. The first creature to bear the type was Atog in Antiquities.[3]
The word "atog" is an anagram of "goat", another creature humorously rumored to eat metallic objects - in reality, goats nibble at the paper labels of the cans.
Species
[
]
Though found on several planes throughout the Multiverse, atogs appear to be most common on the world of Dominaria, where they are scattered across several continents. Atogs were first seen in the continent of Terisiare at the time of the Brothers' War, where they wreaked havoc on the weapons employed by the powerful artificers of the era, though the largest variety and concentration of atogs was in Otaria, where they flourished as scavengers in the wake of the Phyrexian Invasion. Most atogs are scavengers, with the power to gain strength and sustenance from certain substances.
Known varieties of atogs (and their diets) include the following:
Otarian atogs
[
]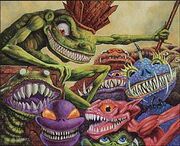 The atogs of Otaria come in a very broad array of types, including common atogs but also an assortment of others. Otarian atogs differ from other varieties in that they can ingest a wider variety of substances, but gain less overall sustenance from them. These atogs may be more intelligent than their relatives elsewhere since they've been seen wielding primitive weapons and wearing crude jewelry. Otarian atogs include the following:
Also on Otaria dwelt the mysterious Atogatog, a unique atog "lord" of great size and power who fed upon its own kind.
Manstone
[
]
Trivia
[
]
Mark Rosewater's Tumblr, Blogatog, is named as an atog.
References
[
]