Fire Emblem Warriors: Three Hopes - The Loop
Play Sound
Beatdown is a box set that was released in October 2000.
Description
[
]
The name was derived from a slang word that was used at the time for aggro decks.[2] Players often said they were "applying a beatdown" when creatures were attacking and dealing lots of damage to an opponent.[3][4][5] A "Beatdown deck" is essentially a "weenie" deck full of creatures that cost between one and four mana.[6]
Beatdown is notable for containing the only tournament-legal card ever printed with the

symbol, a reprint of Fireball. All other printings of the card, as well as its Oracle text, use only

. The

symbol has otherwise only been used on the Unglued card, The Ultimate Nightmare of Wizards of the Coast® Customer Service.
Contents
[
]
The contents of the box set are:
Decklists
[
]
Aerodoom
[
]
Aerodoom is a blue / black deck. Survive the early game with removal spells, then take to the skies! Your Drakes, Djinns, and Elementals will have your opponent diving for cover.
The deck's foil face card is Sengir Vampire. The rares in this deck are Blizzard Elemental, Mahamoti Djinn, Leviathan, Fallen Angel and Clockwork Avian.
Ground Pounder
[
]
Ground Pounder is red / green deck. It contains "some of the biggest, baddest creatures ever to stalk the planes of Dominaria". It is designed to get you to the stage of the game where you can drop these creatures onto the table and toll them right into your poor opponent.
The deck's foil face card is Erhnam Djinn. The rares in this deck are Ball Lightning, Balduvian Horde, Shivan Dragon, Force of Nature and Clockwork Beast.
Misprint
[
]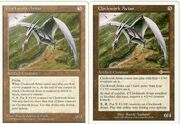 References
[
]
External links
[
]