Raise a Floppa - The Loop
Play Sound
Limited Edition
Beta

Set Information
Set symbol
Symbol description
The letter "B" against a black box
Design
(See Alpha)
Development
(See Alpha)
Art direction
(See Alpha)
Release date
October 1993
Plane
Multiverse
Themes and mechanics
(See Alpha)
Keywords/​ability words
(See Alpha)
Set size
302 cards
(75 commons, 95 uncommons, 117 rares, 15 basic lands)
Expansion code
LEB[1]
Core sets
Magic: The Gathering Chronology
Limited Edition Beta, commonly known as Beta, is the second print run of Limited Edition, which was the first core set of Magic: The Gathering. It contains 302 black-bordered cards. It was released shortly after Alpha, the first printing of the Limited Edition, sold out.
Beta is actually a nickname, but widely accepted as the name for this print run.[2]
Set details
[
]
Beta included a few changes from Alpha:
Its cards use a less rounded corner than Alpha cards. A new 4mm corner diecut was purchased by Carta Mundi to facilitate the increase in demand of millions of cards. Due to this there is a difference from the standard 1/2" corner found on playing cards. This allowed future sets to have larger artwork and smaller borders.
Circle of Protection: Black and Volcanic Island, which were accidentally left out of Alpha, were added.[3][4][5]
the misprinted Cyclopean Tomb, Force of Nature, Birds of Paradise, Demonic Hordes, Elvish Archers, Orcish Artillery, Orcish Oriflamme, Phantasmal Forces, Red Elemental Blast, Rock Hydra, Sedge Troll, Unsummon and Tropical Island were fixed.
Among Alpha, Beta, and Unlimited, cards from Beta were considered early on to be the most valuable because of the black border and the use of the 4mm rounded corner (Alpha cards were originally shunned as marked cards in early tournament decks, which had to appear unmarked without sleeves under early tournament rules).
Due to the printing process, it is possible to get land cards in a rare (Islands, 4 are on the rare print sheet), uncommon, or common card slot. The chance is approximately 3.31% for rares, 21.5% for uncommons, and 38.02% for commons. This is because they put lands on all three printed sheets.
Marketing
[
]
Beta was released on October 4, 1993. Limited Edition was advertised as having "more than 300 cards," so a third version of each basic land was added in the Beta release in order to validate this claim. The print run was announced by Wizards to be 7.8 million cards. Cards were available from mid-October 1993 until mid-December 1993.[7] The cards were evenly divided over 60-card starter decks and 15-card boosters. UPC codes were now printed on the bottom of each starter deck (Alpha had none).
The 40-page Beta rulebook had Bog Wraith on the cover and "Worzel's Story" was dropped to include a summary of play, an FAQ and an Index.[8]
Collectors' Editions
[
]
The Collectors' Edition was a special commemorative edition of Beta cards released on December 10, 1993.[9] Wizards of the Coast produced 13,500 copies of this set.[10] These cards have square corners and a gold border on the back and, thus, are not legal in DCI-sanctioned tournaments.
The similar International Edition was also released in December 1993. Wizards of the Coast produced 3 500 copies of this set. The difference between the international and domestic versions is that the international edition says "International Edition" on the back of the card. These cards are not legal in any DCI-sanctioned tournaments.
Cards & Cycles added to Beta

[

]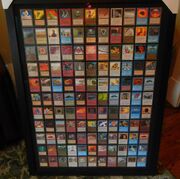 The following cards from Beta were not printed in Alpha:
Beta therefore adds the following cycles to those present in Alpha:
Misprints
[
]
Almost every instance of the artist Douglas Shuler's name was misspelled as "Schuler". (These include: Animate Artifact, Benalish Hero, Circle of Protection: White, Contract from Below, Demonic Tutor, Drain Life, Drain Power, Dwarven Warriors, Force of Nature, Frozen Shade, Glasses of Urza, Hypnotic Specter, Mountain (#298) Mountain (#299), Northern Paladin, Power Surge, Prodigal Sorcerer, Psionic Blast, Righteousness, Serra Angel, Tranquility, Unholy Strength, Unsummon, Uthden Troll, Veteran Bodyguard, Volcanic Explosion, and Weakness.) The only two cards in Beta that have Douglas Shuler's name spelled correctly are Icy Manipulator and the third (new) version of Mountain (#297).
Goblin Balloon Brigade — the wording for the activated ability could be interpreted to give all Goblins Flying instead of only itself, which was the original intent. The wording was changed to reflect the original intent beginning with Revised Edition.[11]
Goblin King — the wording gave all Goblins +1/+1 and mountainwalk, but the original intent was that this would not apply to the Goblin King itself. Beginning with Revised Edition this problem was solved by listing the Goblin King's type as "Lord"; beginning with Ninth Edition the word "Goblin" returned to the type and the wording for the ability was changed to "Other Goblins get +1/+1 and have mountainwalk."[11]
References
[
]
External links
[
]