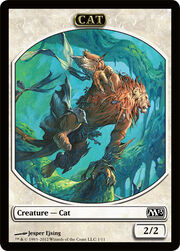 Cat is a creature type.
Details
It is a creature type that refers to any feline being. This can be anything from a Lion to a Leonin to a normal housecat (or in the case of Entrails Feaster a housecat zombie).
Cats can be of any color but are more often green than other colors. Quite a few white cats have also been printed. Red cats are often Firecats.
In other languages
Language or script
Title
Romanization
French

Chat
German

Katze
Italian

Felino
Portuguese

Felino
Spanish

Felino
Russian

Кошка
Koshka
(GOST 2002)
Japanese

猫
Neko
(Hepburn)
Korean

고양이
Goyang-i
(Revised romanization)
Simplified Chinese

猫
Māo
(Pinyin)
Traditional Chinese

貓
Māo
(Pinyin)
Maau1
(Jyutping)