Challenger Gauntlet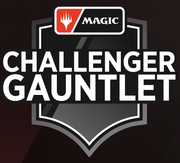 The Challenger Gauntlet is a Magic Esports tournament that will be organized at the end of each regular Players Tour season. It was introduced in 2020.[1]
Non-league players earn invitation to the post-season Challenger Gauntlet based on their performance in any Split Championship. The Challenger Gauntlet provides direct invitations to the MPL and Rivals League as well as additional opportunities through qualification to the Rivals Gauntlet.
The competitors of the Challenger Gauntlet are invited from each 2020-2021 season Split Championship based on final standings:
The eight (8) highest finishing Challengers in the event; or
The Challengers who finished the event with a record of 11-4 or better (whichever of the two is the greater number of Challengers).
Top 4 receive invitation to Magic World Championship XXVII and the MPL for the following season.
Players that finish 5th through 12th receive invitation to the Rivals Gauntlet.
All other Challengers will receive invitation to a future event in the 2021-2022 season.