Raise a Floppa - The Loop
Play Sound
Coldsnap is the thirty-ninth Magic expansion and was released in July 2006 as the third set and second small expansion of the Ice Age block, ten years after the second expansion of the block, Alliances. This replaced the Homelands expansion as a member of the block, the only time a block has been changed this way in Magic.[2] Since Coldsnap concluded a much older block, its design made a special effort to revisit many of the previous themes while updating them for the more modern environment. The prerelease events for this set were held on July 8–9, 2006.[3][4]
Set details
[
]
Coldsnap contains 155 black-bordered cards (40 rare, 55 uncommon, and 60 commons). Its expansion symbol is a depiction of three icicles.[5] When Coldsnap was initially announced, Wizards of the Coast claimed that the set was a "lost design file" only recently found.[6][7] Because this statement was taken seriously, Mark Rosewater later had to clarify that it was a joke.[8][9]
Coldsnap had the shortest-ever design, at six weeks.[10] R&D made a conscious effort to hit on every standout theme in Ice Age and Alliances to give the set the necessary "retro" feel.[11] This included cumulative upkeep, allied colors, pitch cards, old characters springing to life and land that doesn't tap for mana.[12] The 'snow-covered' supertype changed to 'snow' and expanded its use to nonland permanents.[13][14] The new Recover mechanic captured the feel of "graveyard order matters" without requiring meticulous tracking.[15] Another new mechanic was Ripple.[16]
Because most sealed tournaments would use only Coldsnap cards due to the rarity of Ice Age and Alliances booster packs, as a means of making frequently recurring commons more valuable, several common cards (the "kindle" and "surging" cycles) were printed that rewarded players for using multiple copies in their decks, making them more desirable.[17]
Storyline
[
]
Terisiare, the island continent that was home to the Brothers' War and the Ice Age, is in a state of rebirth known as the Thaw.[18][19] The icy shell that encased the continent is melting away. Most of the inhabitants of Terisiare rejoice as the ice gives way to warmth and the rebirth of the land. But, in this time of great change, there are some who see it as a time to angle for power: a secretive society of mages poised to shroud the continent with their icy brand of magic.
Marketing
[
]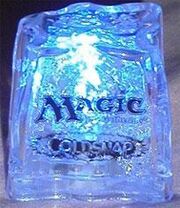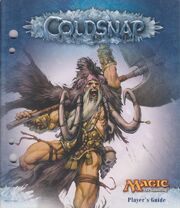 Coldsnap was sold in 15-card boosters, four preconstructed theme decks and a fat pack.[20] The decks and the fat pack contained a random Pro Tour Players Card. The booster packs featured artwork from Adarkar Valkyrie, Rimescale Dragon and Allosaurus Rider. The prerelease card was a foil alternate art Allosaurus Rider.[21] The release card was a Marit Lage token [22] The fat pack contained Jeff Grubb's classic novel The Gathering Dark and a new original story by the same author included with the Coldsnap Player's Guide (Keeping the Cold).[23]
Tournament impact
[
]
Coldsnap is tournament legal in Modern, Legacy, Vintage, and Ice Age block tournament formats. It was also released on Magic Online on August 14, becoming the first expansion ever to be legal for Constructed tournament play on Magic Online before its paper version was. However, the Ice Age and Alliances reprints from the theme decks were not legal in Standard tournament play, and the reprints have not been added to Gatherer.
Coldsnap is the only expansion released that does not fit the Modern block schedule, creating some confusion. It was legal in the Extended format based on its release date, not on its association with the Ice Age block.
Mechanics
[
]
Recover — allows a player to return cards with the ability to their hand by paying the card's Recover cost when a creature is put into their graveyard from the battlefield; however, if they do not pay the Recover cost the card is then exiled.
Ripple — when a player plays a spell with ripple, they may reveal the top four cards of their library. If they do, they cast play all cards revealed this way that share a name with the spell without paying their mana costs.
Creature types
[
]
The following creature types are introduced in this expansion: Juggernaut.
The following creature types are used in this expansion but also appear in previous sets: Angel, Ape, Artificer, Assassin, Aurochs, Avatar, Barbarian, Bear, Beast, Bird, Cat, Centaur, Cleric, Construct, Dragon, Druid, Elemental, Elf, Faerie, Gargoyle, Giant, Goblin, Griffin, Horror, Illusion, Knight, Leviathan, Lizard, Lord (later changed to Human), Minotaur, Mutant, Ooze, Orc, Rogue, Serpent, Shade, Shaman, Skeleton, Slug, Snake, Soldier, Specter, Sphinx, Spider, Spirit, Treefolk, Unicorn, Vampire, Wall, Warrior, Wizard, Wurm, Yeti, Zombie.
Cycles
[
]
Coldsnap has ten cycles and a vertical cycle.
Vertical cycle
[
]
Pairs
[
]
Coldsnap has one mirrored pair.
Theme decks
[
]
Like other theme decks, Coldsnap theme decks used cards available in its block. This created reprints of Ice Age and Alliances cards. These reprints were different from the originals in that they had expansion symbol rarity coloring (in addition to being slightly redesigned), have collector numbers, and were printed featuring the new card frame.[25]
The preconstructed theme decks are:
Notable cards
[
]
Reprinted cards
[
]
The following cards have been reprinted from previous sets and included in Coldsnap.
Frozen Solid — was last seen in Scourge, possibly reprinted due to the card name and card flavor fitting the set.
Functional reprints
[
]
Coldsnap has two functional reprints:
Trivia
[
]
Gallery
[
]
Notes
[
]
References
[
]
External links
[
]