Commander 2020/Symbiotic Swarm
Symbiotic Swarm is a 100 card Commander preconstructed deck with a counters theme, featured in Commander 2020.[1][2]
Symbiotic Swarm is Abzan (



) colored. The primary commander is Kathril, Aspect Warper, and the secondary commanders are Tayam, Luminous Enigma and Nikara, Lair Scavenger partnered with Yannik, Scavenging Sentinel.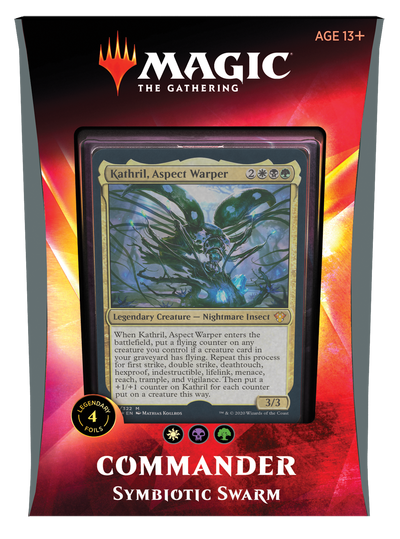 The new cards in the deck are:
Cards that were printed in the simultaneously-released Ikoria: Lair of Behemoths expansion, and thus use the Ikoria expansion symbol, are:
Reprints with new art in the deck are:
Double-faced tokens and punch cards
[
edit
|
edit source
]
The deck comes with 10 double-faced tokens:[3]
The box also includes 4 double-sided punch cards with keyword counters on them, including the indestructible and double strike counters found only in Commander 2020. These provide you with the following counters:[4]
2x Hexproof/flying counter
1x Trample/vigilance counter