Conflux

Set Information
Set symbol
Symbol description
5 shards joining together
Design
Bill Rose (lead),
Mark Globus,
Mark Gottlieb,
Kenneth Nagle
Development
Mike Turian (lead),
Graeme Hopkins,
Erik Lauer,
Devin Low
Art direction
Jeremy Jarvis
Release date
February 6, 2009
Plane
Alara
Keywords/​ability words
Cycling, Devour, Domain, Exalted, Unearth
Set size
145 cards
(60 commons, 40 uncommons, 35 rares, 10 mythic rares)
Expansion code
CON[1]
Development codename
Paper
Alara block
Magic: The Gathering Chronology
Conflux is the second set in the Alara block and is the forty-eighth Magic expansion. The prerelease events for this set were held January 31-February 1, 2009.[2] Launch parties were held February 6–8, 2009.[3] The set went on sale February 6, 2009.
Set details
[
]
Conflux was the first small set to be reduced in size and to contain the new mythic rarity The set contains 145 black-bordered cards (60 commons, 40 uncommons, 35 rares, 10 mythic rares). Conflux continues the Shards of Alara 's multicolor theme, expanding on it by introducing five-colored cards. Aside from the multicolor theme the set makes use of the mechanics introduced in the previous set.[4][5] The set featured the return of Nicol Bolas, via the card Nicol Bolas, Planeswalker. The expansion symbol of the set is a representation of the five converging shards. The set was accompanied by the first Planeswalker novel: Agents of Artifice, written by Ari Marmell.
On September 29, 2008, the entire Conflux card list was leaked on MTG Salvation, thanks to mjmj.info.[6]
Flavor
[
]
A powerful and infinitely sinister force is conspiring to reunite the Shards of Alara. This reunification will come with a deadly price – sheer chaos, as realities begin to overlap. Thus begins the Conflux.[7]
Marketing
[
]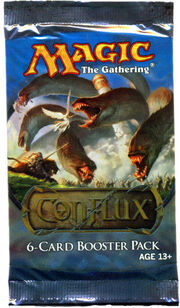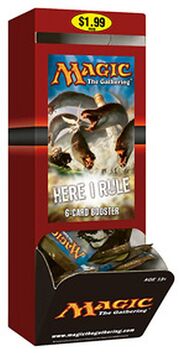 Conflux was sold in 16-card boosters, five intro packs and a fat pack.[8][9][10] Conflux was also the first set to be sold in 6-card booster packs containing a tips/token card, 1 land, 3 commons, 1 uncommon, and 1 slot that has an equal chance of being rare/mythic, uncommon, or common. These packs were exclusively available from Gravity Feeds at large mass-market stores.[11]
The promotional card given to players at the pre-release was the demon-dragon Malfegor.[12] The set's sub-theme of all five colors converging was demonstrated in the release card, Obelisk of Alara, an artifact with five tap abilities, each one costing 1M and producing a common effect found in that color.[13]
The 16-card boosters featured artwork from Nicol Bolas, Planeswalker, Maelstrom Archangel and Nyxathid, the small booster featured artwork from Apocalypse Hydra. An all-foil booster pack containing cards from Conflux and the other two sets of the block was released on January 8, 2010.[14]
The regular boosters of Conflux come with a bonus sixteenth card that is either a "tips & tricks card" or a creature token from Conflux. One face of the Conflux bonus card has one of four different rules tips or is one of 2 different creature tokens. The other face has one of 13 advertisements for organized play programs, Alara Reborn, Duels of the Planeswalkers for Xbox Live, Magic Online, fat packs, A Planeswalker's Guide to Alara and Ultra Pro products for Magic.
Tips & Tricks
[
]
The tips & tricks cards are
Tokens
[
]
The Conflux tokens are:[15]
4/4 Angel with flying produced by Sigil of the Empty Throne
The following tokens could also be found in Conflux packs.
Mechanics
[
]
All the shard keywords were back. Colored artifact creatures were still there. Bant still had their exalted ability. Jund still devour. Grixis raised their dead by unearth and Naya's "power 5 or greater" theme continued. In many ways, Conflux was a big continuation of Shards of Alara, except that there was now room for color hate because the shards had become aware of eachother.[16]
In Conflux, Domain became an ability word.[17] The set also introduced basic land cycling for which there is a cycle of common cards (also regular cycling appears on two cards). Progenitus was the first to have "protection from everything" as an actual card effect.
Cycles
[
]
Conflux has 8 cycles:
Mini-cycles
[
]
Conflux has three cycles of three cards:
Mega cycle
[
]
Reprinted cards
[
]
Functional reprints
[
]
Conflux has 7 functional reprints:
Card comparisons
[
]
Notable Cards
[
]
Intro packs
[
]
The intro packs are:[21]
References
[
]
External links
[
]