Raise a Floppa - The Loop
Play Sound
Copy

Mechanic
Introduced
Alpha
Last Used
Commander Legends: Battle for Baldur's Gate
Statistics

531 cards

0.6% 7.2% 32.4% 6.2% 17.1% 7.9% 1.3% 2.4% 0.6% 0.4% 1.7% 0.4% 5.5% 0.4% 0.8% 2.6% 3.8% 8.1% 0.8%

Scryfall Search
oracle:"Copy"
Copy effects were introduced in Alpha, on the cards Clone and Vesuvan Doppelganger.[1] These effects can create or turn an object into a copy of another. When creatures are copied, this mechanic is sometimes referred to as "cloning".[2][3][4]
The exact result of a copy effect is a common source of confusion. In most cases, a copy is created with only the printed qualities of the original, ignoring any temporary changes to that object.
Description
[
]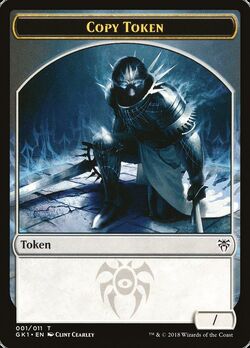 Copying permanents
[
]
Effects that copy permanents either change an existing object to become the copy, or create a token copy. Only the "copiable values" of an object are copied - essentially the attributes that would be printed on a card directly - not subsequent modifications such as counters, attached permanents, or spell effects.
Permanently
[
]
Copying permanents permanently is primary in blue, which has permanents that choose another permanent to copy for the rest of the game.[5] Sometimes they allow new choices to be made to change what they're copying. Green can copy its own creatures. White can copy tokens.[6]
Blue is primary in copying enchantments. White is secondary, but copying enchantments isn't done often. Blue can also copy planeswalkers.[6]
Effects that copy permanent spells result in tokens once the copy of the spell resolves. Lithoform Engine was the first card to feature the line "Copy target permanent spell" in the rules text (as opposed to "copy instant or sorcery spell").[7] The multicolored Garth One-Eye from Modern Horizons 2 can create copies of specific permanent spells that weren't part of the game (Black Lotus and Shivan Dragon).[8][9]
Temporarily
[
]
Copying permanents temporarily is primary in red and secondary in blue.[5] Red has effects that temporarily cause one creature to copy another, usually until end of turn, as well as abilities that create token copies that are exiled at end of turn. Blue's cards in this category include straightforward targeted copies (Shapesharer), permanents that change into copies based on unpredictable conditions (Renegade Doppelganger), effects that cause all permanents of a certain type to copy another permanent of that type (Masterful Replication), and other unique effects.
Copying spells
[
]
Copying spells (usually templated as "Copy target instant or sorcery spell. You may choose new targets for the copy") is primary in both blue and red.[5][6] This ability is mostly done outside of common. A second template was developed (when you cast your next instant or sorcery spell, copy that spell. You may choose new targets for the copy) to work as a planeswalker loyalty ability (Chandra, the Firebrand), which was later printed as the first common spell copier (Teach by Example).
Several spells specify copying a sorcery or instant "card", then allow a player to "cast the copy". In these cases, the only place the copy will actually exist is on the stack, but the player must go through the casting process as if casting the spell from the hand. The most obscure version is Epic, where the copy is directly put on the stack without casting and potentially without a visible source.
A small number of creatures have the ability to copy spells that target them, often with the copies targeting one or more other creatures.
A very small number of cards can copy permanent spells, which become tokens once the copy of the spell resolves. However, these copies are still spells until they leave the stack, and can therefore be countered, re-copied, or otherwise targeted just like other spells on the stack.
Once on the stack, a copy of a spell is similar to an ability: it's not represented by a physical marker, so players simply remember it's on the stack until it resolves or otherwise leaves the stack, at which point it ceases to exist (with the exception of a permanent spell that resolves successfully, which becomes a token). Casting decisions and actions such as payment of kicker costs, modal choices, spliced effects, and the value of

are included in the copy.
Unlike with copies of permanents, no cards cause spells to become copies of completely different spells. However, there are special cases that come close:
Fork (Alpha)'s original printing ambiguously stated that it is "treated as" a copy of another spell, before receiving errata to function like other effects that create separate copies.
Ertai's Meddling was printed without involving copies, but now functions by exiling a spell and later returning it to the stack as a copy of the original spell. This uses the mechanics of copying to restore all attributes and decisions of the spell as it was originally cast, despite leaving the stack for multiple turns. It is the only card that copies an object which had ceased to exist on a previous turn.
Copying abilities
[
]
Copying abilities was one of the last designs to be printed; Rings of Brighthearth was the first, copying activated abilities. The cards that could do so had to be phrased carefully as to avoid looping mana abilities for infinite mana. Strionic Resonator was the first to do so for triggered abilities. An alternative template which avoids the word "copy" was developed in Panharmonicon, which is phrased as "triggers an additional time", which nonetheless results in two copies of a triggered ability.
Copying cards
[
]
With conjuring, digital players may create copies of other cards while they are not on the battlefield. These use the term "duplicate" rather than "copy" due to the rules behind the keyword "copy", specifically that they generate a new card with the target's attributes that can exist in the hand, and potentially the graveyard or library.
Rules
[
]
Effect interactions
[
]
Copy effects form layer 1, the lowest and earliest layer, in the layer system dictating the interaction of continuous effects. This ensures that the copiable values of an object are unchanged from the printed values at the moment that copy effects should apply. It also means that all non-copy effects are applied to the copied values rather than the printed values of the card. All together, it creates a metaphor that the card was actually printed with the copied values, and then other effects made further modifications to that card just as they would to any other.
Copy effects last as long as their abilities declare, regardless of changes to the status of the card that became a copy. This creates confusing interactions with cards that transform or turn face up or down. A transforming card that is also a copy of something, remains a copy of what it was before. Changing which card face is showing has no actual effect on the object's values until the copy effect ends. On the other hand, properties applied by a card being face down come after copy effects - thus, a face down creature that receives a copy effect will not appear to have the copiable values, since the face down status supersedes the copy effect and keeps it a colorless 2/2 creature. However, if it ever turns face up, the copy effect will still be active while the face down status is not, so it will take on the copied values at that time.
Copiable values
[
]
The copiable values of an object are its name, mana cost, color indicator, card type, subtype, supertype, rules text, power, toughness, and loyalty. These values are usually copied exactly as printed. However, copy effects do respect changes to those values resulting from other copy effects, face-down status, and some effects that set a creature's power or toughness. The last are only considered if they have the wording "as [the object] enters the battlefield" or "as [the object] is turned face up".
Additionally, for objects on the stack (that is, spells or effects that have not yet resolved), copies also copy any choices made while casting it, such as mode, targets, or additional or alternate costs that were paid. Many, but not all, effects that copy spells allow the controller of the copy to choose new targets for that copy.
Information not copied
[
]
Counters on the object being copied and objects attached to it, such as Auras or Equipment, are not copied, and neither are the effects granted by them.
The collective status of the original object is also not copied. Unless otherwise stated, the copy will be created untapped, unflipped, face-up, and phased-in.
Information not on the face of the card that is showing is also not copied: A copy effect "cannot see" the attributes of a face-down card, and can only copy whichever of the two faces of a double-faced card is turned up at that time. More technically, copy effects only use the attributes of the object at the time it's copied, not the full card representing the object.
This leads to an important distinction and oddity regarding copies of face-down creatures. A copy of such a creature will acquire the copiable values of the original face-down creature, and become a 2/2 colorless, costless, nameless, subtypeless creature, but it will instead be face-up. Such a copy is unable to morph, and never acquires the face-up characteristics of the original creature.
Copy tokens
[
]
Token Name
Color
Type Line
P/T
Text Box
Source
Printings
Copy
Colorless
Token
This token can be used to represent a token that's a copy of a permanent.
Imperial Mask
White
Enchantment
When Imperial Mask enters the battlefield, if it's not a token, each of your teammates puts a token that's a copy of Imperial Mask onto the battlefield.
You have hexproof.
Skyclave Relic
Colorless
Artifact
Kicker
Indestructible
When Skyclave Relic enters the battlefield, if it was kicked, create two tapped tokens which are copies of Skyclave Relic
: Add one mana of any color.
Mishra's Self-Replicator
Colorless
Artifact Creature — Assembly-Worker
2/2
Whenever you cast a historic spell, you may pay . If you do, create a token that's a copy of Mishra's Self-Replicator.
Herald of the Host
White
Creature — Angel
4/4
Flying, vigilance
Myriad
Caller of the Pack
White
Creature — Beast
8/6
Trample
Myriad
Nacatl War-Pride
Green
Creature — Cat Warrior
3/3
Nacatl War-Pride must be blocked by exactly one creature if able.
Whenever Nacatl War-Pride attacks, create X tokens that are copies of Nacatl War-Pride and that are tapped and attacking, where X is the number of creatures defending player controls. Exile the tokens at the beginning of the next end step.
Spawnwrithe
Green
Creature — Elemental
2/2
Trample
Whenever Spawnwrithe deals combat damage to a player, put a token that's a copy of Spawnwrithe onto the battlefield.
Bloodforged Battle-Axe
Colorless
Artifact — Equipment
Equipped creature gets +2/+0.
Whenever equipped creature deals combat damage to a player, create a token that's a copy of Bloodforged Battle-Axe.
Equip
Warchief Giant
Red
Creature — Giant Warrior
5/3
Haste
Myriad
Giant Adephage
Green
Creature — Insect
7/7
Trample
Whenever Giant Adephage deals combat damage to a player, put a token onto the battlefield that's a copy of Giant Adephage.
Scute Swarm
Green
Creature — Insect
1/1
Landfall — Whenever a land enters the battlefield under your control, create a 1/1 green Insect creature token. If you control six or more lands, create a token that's a copy of Scute Swarm instead.
Jace, Cunning Castaway
Blue
Planeswalker — Jace

+1

: Whenever one or more creatures you control deal combat damage to a player this turn, draw a card, then discard a card.


-2

: Create a 2/2 blue Illusion creature token with "When this creature becomes the target of a spell, sacrifice it."


-5

: Create two tokens that are copies of Jace, Cunning Castaway, except they're not legendary.
Jace, Mirror Mage
Blue
Planeswalker — Jace
Kicker
When Jace, Mirror Mage enters the battlefield, if Jace was kicked, create a token that's a copy of Jace, Mirror Mage, except it's not legendary and its starting loyalty is 1.


+1

: Scry 2


0

: Draw a card and reveal it. Remove a number of loyalty counters Equal to that card's converted mana cost from Jace, Mirror Mage.

Myr Propagator
Colorless
Artifact Creature — Myr
1/1
, : Put a token that's a copy of Myr Propagator onto the battlefield.
Mist-Syndicate Naga
Blue
Creature — Naga Ninja
3/1
Ninjutsu
Whenever Mist-Syndicate Naga deals combat damage to a player, create a token that's a copy of Mist-Syndicate Naga.
Splitting Slime
Green
Creature — Ooze
3/3
: Monstrosity 3.
When Splitting Slime becomes monstrous, put a token onto the battlefield that's a copy of Splitting Slime.
Biowaste Ooze
Green
Creature — Ooze
0/0
Oozes you control gets +1/+1.
At the beginning of your upkeep, if you control your commander, generate a token that is a copy of Biowaste Ooze.
Ochre Jelly
Green
Creature — Ooze
0/0
Trample
Ochre Jelly enters the battlefield with X +1/+1 counters on it.
Divide — When Ochre Jelly dies, if it had two or more +1/+1 counters, create a token that's a copy of it at the beginning of the next end step. That token enters the battlefield with half of those +1/+1 counters, rounded down.
Sprouting Phytohydra
Green
Creature — Plant Hydra
0/2
Defender
Whenever Sprouting Phytohydra is dealt damage, you may put a token that's a copy of Sprouting Phytohydra onto the battlefield.
Pack Rat
Black
Creature — Rat
*/*
Pack Rat's power and toughness are each equal to the number of Rats you control.
, Discard a card: Put a token onto the battlefield that's a copy of Pack Rat.
Mirror-Sigil Sergeant
White
Creature — Rhino Soldier
4/4
Trample
At the beginning of your upkeep, if you control a blue permanent, you may put a token that's a copy of Mirror-Sigil Sergeant onto the battlefield.
Broodbirth Viper
Blue
Creature — Snake
3/3
Myriad
Whenever Broodbirth Viper deals combat damage to a player, you may draw a card.
Banshee of the Dread Choir
Black
Creature — Spirit
4/4
Myriad
Whenever Banshee of the Dread Choir deals combat damage to a player, that player discards a card.
Sorcerer's Broom
Colorless
Artifact Creature — Spirit
2/1
Whenever you sacrifice another permanent, you may pay . If you do, create a token that's a copy of Sorcerer's Broom.
Vanguard Suppressor
Blue
Creature — Astartes Warrior
3/2
Flying
Whenever Vanguard Suppresor deals combat damage to a player, draw a card
References
[
]