Raise a Floppa - The Loop
Play Sound
Core Set 2020, also known as Core 2020, is the 19th Magic core set. It was released on July 12, 2019.[4]
Set details
[
]
Core Set 2020 features a mix of new and reprinted cards. The set contains 280 cards (112 commons, 80 uncommons, 53 rares, 15 mythic rares, 20 basic lands) and includes randomly inserted premium versions of all cards. 1:45 cards are foil, instead of the usual 1:67.[5] A unique Buy-a-Box promotional card numbered #281/280 is also considered to be part of the set. 63 additional cards are found in the set's planeswalker decks (#282/280 to #301/280) and Spellslinger Starter Kit and Welcome decks (#302/280 to #344/280).[6] Core Set 2020 introduced full-art tokens.[7] The Gainlands appear like the taplands in Core 2019 over the basic lands in about 5/12 boosters.
Chandra Nalaar is the face of Core Set 2020 card set, and is represented by three different planeswalker cards in different rarities and depicting several facets in her life.[8][9] A fourth Chandra planeswalker card is included in the Chandra Planeswalker Deck.[6]
Rules change
[
]
Starting with tabletop Core Set 2020 Preleases on July 5, the London mulligan will be used for all play.[6] It became officially reflected in the Comprehensive Rules with the M20 rules updates on July 12.[10] To take this mulligan, a player shuffles the cards in their hand back into their library, draws a new hand of cards equal to their starting hand size, then puts a number of those cards equal to the number of times that player has taken a mulligan on the bottom of their library in any order.
Storyline
[
]
Core Set 2020 has a small flavor theme focusing on the life of Chandra Nalaar.[9][11] There are no Story Spotlights, and there was no story support for the set.
Marketing
[
]
Core Set 2020 is sold in 16-card boosters (one card being a marketing card), mono-colored theme boosters, five welcome decks, five planeswalker decks, the Core 2020 bundle, a Deck Builder's Toolkit, a Spellslinger Starter Kit and a Land Station. The bundle for the first time contains a alternate art foil promo card and an oversized spindown life counter.[12] It also contains 20 foil lands.[5] The boosters feature key art of three planeswalkers (Ajani, Mu Yanling and Sorin Markov) that is also featured on the Planeswalker decks and Welcome decks.
Like with its predecessor, the Welcome decks, Planeswalker decks and Deck Builder's Toolkit are strongly integrated, which allows for an easier transition between the products.[11][13] The Spellslinger Starter Kit is now also part of the line up.[14] Throughout the product line the colors have a central theme:

Lifegain,

Flying,

Vampires,

Direct damage and

Big Monsters/Pump.
Events
[
]
Promotional cards
[
]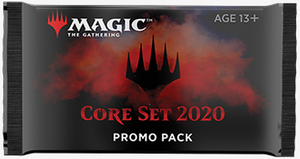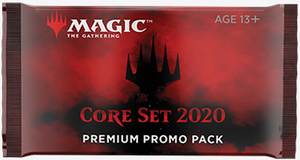 Tokens and emblems
[
]
Core 2020 comes with 10 tokens and 2 emblems. Token and emblems appear in the marketing card slot.[7]
Themes and mechanics
[
]
To improve draft, Core Set 2020 is built around three-color "wedges" (a color and its two enemies).[11]
The set features the following limited archetypes, which focus on the ally-colored pairs within each wedge:
The enemy colored signposts connecting the two archetypes which they are part of:
There are no new, or non-evergreen returning, mechanics in the set. Protection returns back to evergreen on a probationary status.[2][21]
Cycles
[
]
Core Set 2020 has twenty cycles, including one double cycle and one vertical cycle.
Cycle name
Core set planeswalkers
Ajani, Strength of the Pride
Mu Yanling, Sky Dancer
Sorin, Imperious Bloodlord
Chandra, Awakened Inferno
Vivien, Arkbow Ranger
Five mythic monocolor planeswalkers.[22]
Cavaliers
Cavalier of Dawn
Cavalier of Gales
Cavalier of Night
Cavalier of Flame
Cavalier of Thorns
Five mythic Elemental Knight creatures, each costing MMM. Each has a powerful enters the battlefield, a synergistic dies trigger, and a keyword (or can gain a keyword) ability.[22]
Iconic legends
Sephara, Sky's Blade
Atemsis, All-Seeing
Vilis, Broker of Blood
Drakuseth, Maw of Flames
Gargos, Vicious Watcher
Five rare monocolored iconic legendary creatures, each costing at least MMM.[22]
Leylines
Leyline of Sanctity
Leyline of Anticipation
Leyline of the Void
Leyline of Combustion
Leyline of Abundance
Five rare enchantments, each of which cost MM, and can start the game on the battlefield if they are in a player's opening hand.[6][22]
Double spells
Brought Back
Drawn from Dreams
Scheming Symmetry
Repeated Reverberation
Shared Summons
Five rare instants and sorceries, each of which have an effect that happens twice and have an alliterative name.[22]
Enemy color hosers
Devout Decree ()
Aether Gust ()
Noxious Grasp ()
Fry ()
Veil of Summer ()
Five uncommon instants and sorceries, each of which punish an opponent for playing their enemy colors.[22]
Protection creatures
Apostle of Purifying Light ()
Cerulean Drake ()
Blightbeetle ()
Unchained Berserker ()
Shifting Ceratops ()
Five creatures, each of which have protection from one of their enemy colors. Four are uncommon and one is rare.[22]
Colored artifacts
Ancestral Blade
Portal of Sanctuary
Bloodsoaked Altar
Mask of Immolation
Wolfrider's Saddle
Five uncommon monocolored artifacts.[22]
"Care about" spells
Battalion Foot Soldier
Faerie Miscreant
Undead Servant
Pack Mastiff
Growth Cycle
Five common spells that get more powerful when played with multiple copies of the same card. Two are reprints from Magic Origins.[22]
Cycle name
Allied signposts
Empyrean Eagle
Tomebound Lich
Ogre Siegebreaker
Creeping Trailblazer
Ironroot Warlord
Five uncommon allied color spells, each of which supports one wedge draft archetype.[22]
Cycle name
Crossover signposts
Corpse Knight
Lightning Stormkin
Moldervine Reclamation
Skyknight Vanguard
Risen Reef
Five uncommon enemy colored spells, each of which supports two wedge draft archetypes.[22]
Temples
Temple of Silence
Temple of Epiphany
Temple of Malady
Temple of Triumph
Temple of Mystery
Five rare enemy colored scry lands, reprinted from the Theros block.[22]
Cycle name
Wedge legends
Kethis, the Hidden Hand
Kykar, Wind's Fury
Yarok, the Desecrated
Kaalia, Zenith Seeker
Omnath, Locus of the Roil
Five mythic rare wedge colored legendary creatures, some supporting a draft theme.[23]
Dual cycle
[
]
Vertical cycle
[
]
Precon only
[
]
Notable cards
[
]
Banned and Restricted cards
[
]
Misprints
[
]
Core set changes
[
]
Card comparisons
[
]
Preconstructed decks
[
]
Welcome decks
[
]
Core Set 2020 features five Welcome Decks.[5][28]
Spellslinger Starter Kit
[
]
The Spellslinger Starter Kit comes with two Standard-legal 60-card decks, designed to create an interactive learning experience for two.[5]
Planeswalker decks
[
]
Core 2020 features five planeswalker decks, that come with only one booster and are designed to integrate with the welcome decks.[5][16]
Gallery
[
]
References
[
]
External links
[
]