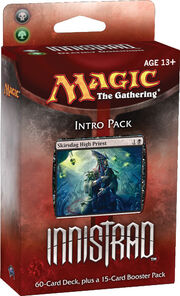 While playing the "Deathly Dominion" deck, you'll delve deep into the dark arts to harness the fearsome powers of death. Even killing your own creatures can work to your advantage! When death itself is on your side, who can stand in your way?
As the game progresses, take advantage of the "morbid" abilities in the deck. A morbid card gets better if any creatures died earlier in the turn. For example, you gain 5 life when Hollowhenge Scavenger enters the battlefield if a creature died that turn. Similarly, Skirsdag High Priest lets you tap it and two other creatures to create a Demon, but only in the aftermath of another creature's death.
Importantly, morbid abilities don't care whether the creature that died was yours or your opponent's! To get these benefits, sometimes it's worth causing your own creature to die. You might sacrifice Brain Weevil to make your opponent discard two cards, or you might sacrifice a creature to equip something with Demonmail Hauberk. Of course, it's even better if one of your opponent's creatures has died first; Dead Weight and Doom Blade can help with that. Keep in mind, though, that sometimes you're better off casting a morbid spell than waiting, even if you won't get its bonus.