Raise a Floppa - The Loop
Play Sound
Double Masters is a booster-based compilation set that was released on August 7, 2020 in paper, and released on August 6 for Magic Online. It is designed to be drafted.[2][3]
Set details
[
]
| | | |
| --- | --- | --- |
| "  | Two Rares. Two Foils. Too Powerful |  " |
Double Masters contains 332 cards (91 commons, 80 uncommons, 121 rares, 40 mythic rares)[4] and includes randomly inserted premium versions of all cards. Box toppers are numbered #333-372, VIP Edition full-art basic lands are #373-382, and the prerelease promos Wrath of God and Chord of Calling are #383 and #384. Every booster box of Double Masters contains 24 booster packs, each with fifteen randomly inserted game cards. The set is unusual in the fact that it features two Rare or Mythic cards in each pack. It also features two premium foil cards in each pack in place of one.[2][3]
Marketing
[
]
Double Masters was sold in Draft Boosters only. It was available in English, French, German, Simplified Chinese, and Japanese. The set had no MSRP, but the Magic store of Amazon.com set the price at $16.30 per booster pack. The boosters feature artwork from Breya, Etherium Shaper, Dark Confidant, and Wurmcoil Engine.
Box Toppers
[
]
Each booster box includes two random showcase borderless non-foil box toppers, each being available as regular card in the set, too. There is a total of 40 box toppers. The box toppers are numbered #333 to #372.
VIP Edition
[
]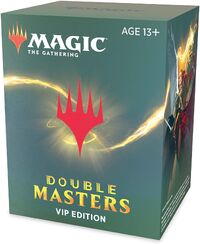 For this set, a so-called VIP Edition replaces the Collector Boosters. Each package of 35 cards contains:[5][6]
2 foil showcase borderless cards (only found in VIP edition)

These borderless cards will be two from a selection of 40, 32 of which are rare/mythic rare and 8 of which are uncommon/common.
Cards with a rare expansion symbol appear twice as frequently as those with a mythic rare expansion symbol.
Wizards clarified that this slot may contain 2 foil borderless showcase cards with rare expansion symbols or 1 showcase rare and 1 showcase mythic, but never 2 mythic rare showcase cards.

2 foil rares, or 1 foil rare and 1 foil mythic.
8 foil uncommons
9 foil commons
10 full-art basic lands (only found in VIP edition; numbered #373 to #382)
2 foil full-art basic lands (only found in VIP edition, 2 randomly selected from among the 10 options)
2 foil double-sided tokens (only found in VIP edition)
VIP Edition is available in English and Japanese only.[6] The full-art lands are reprints of the Battle for Zendikar by Noah Bradley, and the Unhinged set by John Avon. These lands were chosen long before Wizards of the Coast learned that Bradley had engaged in inappropriate sexual conduct with members of the Magic and artist community. Therefore, they were not able to replace the lands in time.[6]
The VIP Edition is sold on Amazon for $102.60.[7]
Events
[
]
Launch party: August 7–9.

A special Draft rule was in place: players must take two cards for their first pick each pack.
Promos
[
]
Token cards
[
]
Double Masters contains thirty-one tokens.[9]
Themes and mechanics
[
]
R&D has doubled everything about Double Masters. Double the rare slots, double the box toppers, double the first-picks in Draft. Several cards also have doubling mechanics, including the copying of spells and permanents.[10]
Based on the the design of an unreleased Artifact Masters, the set also heavily focuses on artifacts.[4][11]
Double Masters features the following limited archetypes:[12]
Cycles
[
]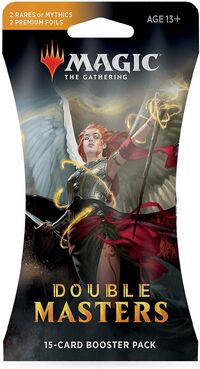 Double Masters has six cycles.
Dual cycles
[
]
Changes in rarity
[
]
Mythic rare to rare
[
]
Rare to mythic rare
[
]
Rare to uncommon
[
]
Uncommon to rare
[
]
Uncommon to common
[
]
The following are all new to Pauper:
Common to uncommon
[
]
Box toppers
[
]
Similar to the extended-art Cultivate in Core Set 2021, eight of the box toppers are printed with rare set symbols, while their regular counterparts are common or uncommon.[13]
Notable cards
[
]
Cards with new art
[
]
Urzatron panorama
[
]
The alternate-art Urzatron lands and Karn form a panorama which contains references to early magic cards Strip Mine, Defense Grid, Extruder, Urza's Factory, and Mana Matrix.[15]
First time foil
[
]
First time non-foil
[
]
Some Commander cards are released for the first time without a foil treatment.[16]
References
[
]