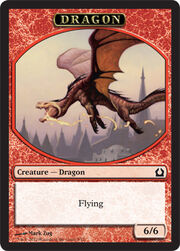 Dragon is a creature type.
Details
Winged giant reptilian beasts of great destructive power, dragons are a staple in any fantasy genre. Many different dragons exist, along with great legendary dragons.
In the worlds of Magic, the primeval dragons Treva, Rith, Darigaaz, Crosis, and Dromar were dragons that once ruled the world. They were tricked by humanity and were sent to sleep. The elder dragons Arcades Sabboth, Chromium, Nicol Bolas, Palladia-Mors (create) and Vaevictis Asmadi (create) once were powerful planeswalkers. They fought a large war entitled the War of the Wyrms or the Elder Dragon Wars. They lost their spark when a powerful world spell cast all other dragons to the land, creating the elder land wurms. The fivefold council fell apart and warred against each other, finding themselves chained by planeswalkers.
Only Nicol Bolas has survived the years after the end of the Elder Dragon Wars, and still lives to this day.
Most dragons are red aligned, very costly to play, and almost all are able to fly. They mainly take their inspiration from the original dragon, Shivan Dragon. It along with Firebreathing created the precedent of a firebreathing ability present in many red creatures.
Dragons are mostly big, flying creatures, they often are used as win condition for combo and control decks, such as Kokusho, the Evening Star, Dragonstorm, and Rorix Bladewing (create).
In other languages
Language or script
Title
Romanization
French

Dragon
German

Drache
Italian

Drago
Portuguese

Dragão
Spanish

Dragón
Russian

Дракон
Drakon
(GOST 2002)
Japanese

ドラゴン
Doragon
(Hepburn)
Korean

용
(龍)
Yong
(Revised romanization)
Simplified Chinese

龙
Lóng
(Pinyin)
Traditional Chinese

龍
Lóng
(Pinyin)
Lung4
(Jyutping)