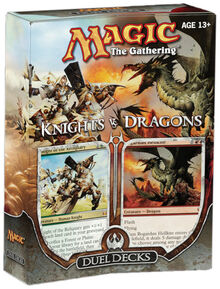 Duel Decks: Knights vs. Dragons is the seventh set in the Duel Decks series. It was released on April 1, 2011, with an MSRP is US$19.99.[2][3]
Knights vs. Dragons contains two preconstructed theme decks, one centered around Knights and the other around Dragons. The set has a tribal theme and plays out the well-known folklore tales and myths of knights hunting down and slaying dragons, such as the episode of Saint George and the Dragon.[4]
Description
[
]
Knights vs. Dragons features two cards with alternate art and holographic foil treatment; Knight of the Reliquary and Bogardan Hellkite.[5] Furthermore, the set includes another four cards with alternate art; Loxodon Warhammer, Silver Knight, Punishing Fire, and Seething Song.
In addition to this, the Duel Deck contains a Magic "learn to play" guide, a strategy inset, and two copies of

1/1 Goblin creature tokens, which are created by the card Dragon Fodder.
Decklists
[
]
Knights
[
]
The rares in this deck are Knight of the Reliquary (holographic foil), Kinsbaile Cavalier, Knight Exemplar, Knight of the White Orchid, Knotvine Paladin, and Loxodon Warhammer.
Dragons
[
]
The rares in this deck are Bogardan Hellkite (holographic foil), Kilnmouth Dragon, Mordant Dragon, Shivan Hellkite, Thunder Dragon, and Voracious Dragon.
References
[
]
External links
[
]