Raise a Floppa - The Loop
Play Sound
Duels of the Planeswalkers (2009) was the first in a series of digital Magic games, released by Wizards of the Coast. It was released in June 2009.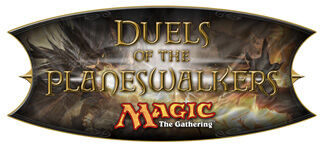 Description
[
]
Duels of the Planeswalkers (2009) came out on June 17, 2009 for the Xbox 360 on Xbox Live Marketplace and November 23, 2010 for the PlayStation 3 on PlayStation Network.[1][2][3][4] The game became available for PC Users via Steam in june 2010.[5][6]
It featured the planeswalker Nissa Revane from the Zendikar set as an adversary.[7]
Purchases of the game were given a code, which they could redeem for a promotional foil alternate art Garruk Wildspeaker with the Xbox 360 version, a foil alternate art Liliana Vess with the PlayStation 3 version [8] or a foil Nissa Revane with the PC version.[9]
Decks
[
]
The game allows the player to play with preconstructed decks according to respective Planeswalkers following specific strategies.[10][11][12] However, the respective planeswalker cards are not included in the game. The player starts with Chandra's and Garruk's decks but can unlock further decks and cards for each deck. In deckbuilding a player can add or remove these unlocked cards but can not remove cards they started out with or use cards from other decks. It should also be noted that none of the decks include any lands that aren't basic lands and in deckbuilding lands are automatically calculated and added.
Expansion Pack 1 Decks
[
]
The first expansion featured three new decks.[13][14]
Expansion Pack 2 Decks
[
]
Three new decks.[15][16][17][18]
Expansion Pack 3 Decks
[
]
Multiplayer mode
[
]
The game allows multiplayer games over the XBox Live Network (requiring paid gold membership) or PlayStation Network. It also offers Two-Headed Giant matches against the computer or network opponents.
Puzzle Mode
[
]
The game also features a puzzle mode in which the player can solve eight game situations with limited resources. The difficulty of the puzzles starts out very easy but advances throughout. In this mode cards can be played that are not available in the other modes.
Achievements/Trophies
[
]
Just like other games on the Xbox and PS3 the game features achievements or trophys which are unlocked by certain actions.[21] Each is worth a certain amount of points. Like other games it has 12 tasks to complete, totaling 200 Gamer Score Points (Xbox) or 12 Trophies (PS3).[22]
The Spark (20) (Bronze) - Win a game.
Epic Conclusion (40) (Silver) - Beat the Campaign
Life Preserver (30) (Bronze) - Raise your Life Total to 30 or 60 in a Two-Headed Giant game.
Devastator (20) (Bronze) - Deal 20 points of damage to your opponent in a single turn.
Magic: The Puzzling (10) (Bronze) - Beat one Challenge.
Puzzling Master (20) (Silver) - Beat all eight Challenges.
Defender of Foriys (20) - Win a Two-Headed Giant Game.
Master of Artifice (20) - Beat the cooperative campaign.
Duelist (10) - Win 5 ranked Xbox LIVE matches.
Duels Master (10) - Win 10 Xbox LIVE matches.
Planeswalker (30) - Unlock 100%.
Spellslinger (0) (Gold Trophy) - Defeat someone who has earned the Spellslinger achievement.
See also
[
]
References
[
]