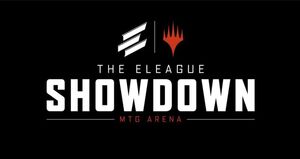 The ELEAGUE Showdown is a Magic tournament series that was first hosted on ELEAGUE in the fall of 2019.[1]
Beginning September 4, 2019 on Twitch, Wizards of the Coast and ELEAGUE launched the series via MTG Arena. It ran through December 18, featuring competitive play from popular MTG community influencers and emerging star players. Individuals competing in the series were chosen through personal invitations and player applications. Players compete in one single-elimination matches, with the winner advancing and the loser being eliminated. The last winner remaining at the end of each week earned prize money and became the incumbent "player to defeat" during the next week's competition. Seth Manfield had a long winning run that contributed to a peak viewership of around 10,000 viewers.
The second season of ELEAGUE Showdown, the Ikoria Arc aired from April 22 to May 27, 2020. Once again it featured top Magic: The Gathering pros and streamers.[2] Eli Kassis was victorious, winning $4,875 US in total.
References
[
]
External link
[
]