No Man's Sky Update - The Loop
Play Sound
Energy

Mechanic
Introduced
Kaladesh
Last Used
Jumpstart: Historic Horizons
Storm Scale
6[1]
Statistics

69 Energy creation cards

10.1% 20.3% 10.1% 13% 20.3% 1.4% 1.4% 2.9% 18.8% 1.4%

Scryfall Search
oracle:"Energy"
Energy is a resource and mechanic that was introduced in Kaladesh[2][3] and expanded on in Aether Revolt.[4][5][6] The mechanic enables the production of energy counters, which may be used to pay the costs of activated and triggered abilities.
Energy counters
[
]

An energy counter is a counter that, unlike most other counters, is placed on players rather than objects.
Most cards that grant energy counters also provide a way to spend them. However, because they are placed on the player rather than a specific object, energy counters from one card can be saved up and spent on the abilities of other cards. Energy counters don't go away as phases or steps end, or as the turn ends, and no cards printed in the Kaladesh block remove energy counters from other players. They could only be removed when the player chose to spend them. Core Set 2019 added Suncleanser which could remove energy counters.
Flavor
[
]
Energy counters represent aether, magical energy that is found throughout the Multiverse. While it is present throughout the Blind Eternities and touches all planes to some extent, on Kaladesh, it is an integral part of the ecosystem.
Examples
[
]
History
[
]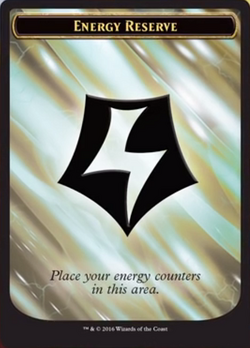 Energy was originally designed for Mirrodin, but was not printed in that set.[7] R&D tried it again for the Esper mechanic in Shards of Alara, but it was cut there as well. For many years, it was known only as "Mechanic E", after being mentioned as such by Mark Rosewater.[8] Following that mention, many mechanics were speculated to be "Mechanic E", notably including the colorless mana symbol

. This occasionally led Mark Rosewater to specifically refute those claims.[9]
Mark Rosewater finally confirmed that "Mechanic E" would be in Kaladesh a few days before the mechanic was officially revealed.[10] It was first previewed on the card Aetherworks Marvel at PAX West 2016.[11]
For Kaladesh, Development built an energy economy to help ensure that any energy expenditure has roughly equal value. In order to create sufficient variety in that economy, both costs and production of energy were doubled relative to the mechanic as produced by the design team.[7] The mechanic has been openly acknowledged as parasitic. However, R&D argues that this is less problematic than some previous mechanics because most energy-using cards serve as both sources and outlets for energy.[12][13]
Another complaint was that Energy was too strong a mechanic, overshadowing other mechanics in Standard. This was also acknowledged by Mark Rosewater, who remarked that R&D had missed on the right power level in their first outing with the mechanic, but that it was not a flaw of the mechanic but rather a matter of costing.[14][15]
Energy symbol
[
]
The energy symbol

was introduced in Kaladesh to represent a cost for energy counters.[16] A common player complaint concerns the typesetting of those symbols, which are printed in a single line with even spacing throughout the line. On cards that use many energy counters within a single ability, this makes reading the correct number of symbols difficult. Future printings of the mechanic might use small variations in spacing to alleviate the issue.[17][18]
References
[
]