No Man's Sky Update - The Loop
Play Sound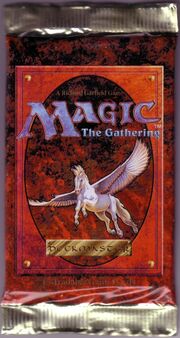 Fourth Edition (4th Edition) is a Magic core set that was released in April 1995. This set contained no new cards.
Set details
[
]
51 cards were removed from the Revised Edition and 122 cards from previous expansions (Legends and The Dark) were added. Fourth Edition was the first set to have its basic lands printed on a separate print sheet. This freed up room on the other card sheets to include more spells. Fourth Edition cards have white borders in the American printing while foreign printings have black borders when no prior edition was released on that market. The set has no expansion symbol.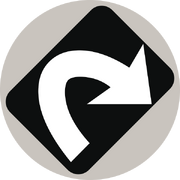 A copyright notice now appeared on the bottom of the cards (dated 1995). The copyright was now attributed to Wizards of the Coast, and not to the artist anymore.
The beveled border missing from Revised was restored. The colors were also much more saturated.
A new white mana symbol () was introduced.[2]

The other mana symbols were redesigned as well, but less noticeably. Black's skull became more elongated, blue's water drop became slimmer and more symmetrical, red's fireball lost the flame licks coming off of it, and green's tree received different branches and a less thick base.

The tap symbol changed to a curved arrow symbol, with a black rectangle representing the tapping card behind it.[3]
An Alternate Fourth Edition run was printed by the United States Playing Card Corporation in Cincinnati. Due to a dispute between the two companies, the cards were never officially published.[4][5]
Marketing
[
]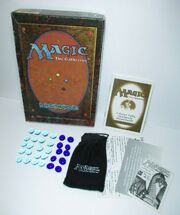 Cards were available from May 3, 1995 well past the end of the run in April 1997.[6] The print run is estimated at 500 million cards. The cards were sold in 60-card starter decks and 15-card boosters. Fourth Edition was the first set with booster packs made of foil wrappers and the first with artwork on the wrappers (Brass Man, Hurloon Minotaur, Mana Vault, Mesa Pegasus, and Spirit Link). The boosters didn't contain basic lands anymore. Starters included an extra rare card, up from 2 to 3 from previous releases and uncommons were reduced to 9 from the previous 13. The package of the starter decks now displayed the five mana symbols, instead of the five colored stones. The set was supplemented with a special Gift Box. The Fourth Edition Gift Box included two starter decks, 30 glass counters, a flannel bag for storing the counters, an illustrated rulebook and a card collectors' checklist.
Fourth Edition was published in English, French, German, Italian, and as a first for a Magic set in Japanese, traditional Chinese, Korean, Spanish, and Portuguese (primarily for the Brazilian market).
Rules changes
[
]
Cycles
[
]
Fourth Edition has 6 cycles, one of which is a 4 card cycle, and 15 mirrored pairs.
Four-card cycles
[
]
Pairs
[
]
Core set changes
[
]
Notable changes
Misprints
[
]
References
[
]
External links
[
]