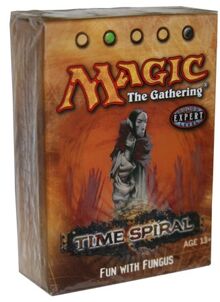 Fun with Fungus is Black/Green theme Deck from Time Spiral. It contains 60 cards, a random Time Spiral ProTour Player Card, a Strategy Insert, and is ready to play.
The back of the box Reads:
Thallids are sentient, mobile fungus creatures that share a symbiotic relationship with saprolings. Tallids do exactly the same two things: spread and consume. Aided by Thelon of Havenwood, they're doing both quite well. In the wake of an apocalypse, what would thrive better than mild?
Decklist