Raise a Floppa - The Loop
Play Sound
Magic Game Night is an introductory box set designed for casual multiplayer play. It can be played by 2 to 5 players and was released on November 16, 2018.[2] The power level of the decks is similar to Planeswalker Decks. The MSRP is $39.99 (applies only to the United States and Canada).
Description
[
]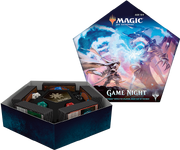 Magic Game Night contains five balanced 60-card preconstructed decks—one of each color. Each deck features a well known archetype, and comes with an exclusive card.[3] These five unique cards, and any other reprinted cards not already in Standard, are not Standard legal. All Core Set 2019 cards in the set and all tokens for the set have the M19 expansion symbol.[4] All other reprints have the Game Night expansion symbol (a pentagon, similar to the Portal Second Age symbol).
Additional content
[
]
5 life counter platforms
5 rules reference cards
1 rulebook
Decks
[
]
Tokens
[
]
The 15 tokens are packaged within each deck, divided evenly into three tokens per deck. However, due to the double-sided design of the tokens, all players will need to share a single token pile, since each deck only produces one token type, thus requiring only one side of any given token.
The tokens are packaged as follows:[5]
Assemble for Battle (produces Knight tokens)
Take to the Skies (produces Thopter tokens)
3x 1/1 Thopter with flying / 1/1 Goblin
Rise from the Grave (produces Zombie tokens)
1x 2/2 Zombie / 2/2 Knight with vigilance
1x 2/2 Zombie / 1/1 Thopter with flying
1x 2/2 Zombie / 1/1 Goblin
Unleash Chaos (produces Goblin tokens)
3x 1/1 Goblin / 2/2 Knight with vigilance
Grow Fierce (doesn't produce tokens)
1x 2/2 Zombie / 2/2 Knight with vigilance
1x 2/2 Zombie / 1/1 Thopter with flying
1x 2/2 Zombie / 1/1 Goblin
References
[
]