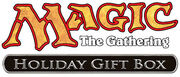 Several special seasonal Magic packagings have been released by Wizards of the Coast, containing a combination of various products.
Description
[
]
Holiday Gift Box
[
]
Although Gift Boxes incidently have been released in the past, this particular product was introduced after the release of Return to Ravnica.[1]
The storage box is useful to both beginners and thorough collectors and especially designed for non-Magic playing people who want to surprise their playing relatives. Initially, the gift boxes were always released in November. Starting with Shadows over Innistrad, a Gift Box is released with each large expansion.
Each Gift Box can hold more than 2,000 Magic cards, it comes with some booster packs from the first set of a block, a pack of twenty basic lands from the same set, six illustrated plastic dividers, a sticker sheet for customizing the dividers and an exclusive card with alternate art.
Gift Box
[
]
In 2016 the product was rebranded as the Magic: The Gathering Gift Box and also appeared in the Easter Season.[2][3]
Gift Pack
[
]
For the 2017 Holiday Season the Gift Box was replaced by a Gift Pack, losing the deck box.[4] In 2018, the Gift Pack became integrated with the reintroduced Core Set, and featured 5 exclusive cards.[5][6]
Gift Edition
[
]
Starting with Throne of Eldraine in 2019, the "Gift Edition" was deluxe version of the Bundle of the relevant set.
Contents
[
]
See also
[
]
Gallery
[
]
References
[
]