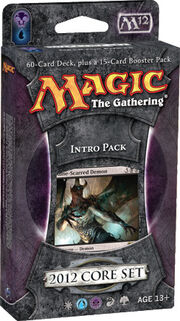 The ultimate goal of the "Grab for Power" deck is to have three specific artifacts—Crown of Empires, Scepter of Empires, and Throne of Empires—on the battlefield at the same time. If you've got all three, each one powers up, delivering not just a good effect (as it does normally), but an absurdly brutal effect. Your triumph won't be far behind.
Finding all three is not an easy quest. Creatures such as Reassembling Skeleton, Warpath Ghoul, and Zombie Goliath will buy you time by battling your opponent's attacking creatures. Removal spells such as Doom Blade and Brink of Disaster can take care of your opponent's especially nasty creatures. In the meantime, creatures like Azure Mage and Merfolk Looter, as well as spells like Ponder and Divination, let you dig through your library looking for the artifacts. Diabolic Tutor and Rune-Scarred Demon are especially effective at finding the last piece of the puzzle.
Naturally, a wise ruler always has a backup plan. If you see an opening in your opponent's defenses, clear out any blockers with your removal spells and simply go on the assault with your terrifying horde of Zombies, Vampires, and Shades. One way or another, you will vanquish all who challenge you!
To make your quest easier to fulfill, add more copies of Crown of Empires, Scepter of Empires, and Throne of Empires to your deck. Cards such as Vengeful Pharaoh and Royal Assassin strongly deter your opponent from attacking you while you build your empire. The Assassin is a particularly brutal choice, since it can pair with Crown of Empires to kill nearly any creature your opponent has!
Community content is available under
CC-BY-SA
unless otherwise noted.