Raise a Floppa - The Loop
Play Sound
Guildpact is the thirty-seventh Magic expansion and was released February 5, 2006 as the second set in the Ravnica block. The prerelease was on January 21, 2006.[2][3]
Set details
[
]
Guildpact contains 165 black-bordered cards (55 rare, 55 uncommon, and 55 commons). Its expansion symbol is wrought-iron design with three "branches" meant to evoke the three-guild nature of the set as well as the urban theme.[4] Guildpact expanded on the Ravnica block themes of multicolor and hybrid, adding three new guilds to the environment: the Orzhov Syndicate (white/black), the Izzet League (blue/red) and the Gruul Clans (red/green).[5][6] The set also included the first creatures with exactly four colors, the Nephilim.[7]
Marketing
[
]
Guildpact was sold in 15-card boosters, three preconstructed theme decks and a fat pack.[8] The decks and the fat pack contained a Pro Tour Players Card. The booster packs featured artwork from Djinn Illuminatus, Rumbling Slum and Graven Dominator. The prerelease card was a foil alternate art Djinn Illuminatus.[9] The release card was Gruul Guildmage. The set was accompanied by the novel of the same name by Cory Herndon. Additional art for several tokens was created for Magic Online.[10]
Storyline
[
]
The Guildpact has kept Ravnica stable for thousands of years. But with ten guilds vying to become the dominant force on the planet, there's always a chance that things will break down. Guildpact continues the story of this massive city, and introduces players to three more guilds.[11] The Gruul ravages the streets. Teysa leads the Orzhov Syndicate to "cleanse" them. And Agrus Kos doesn't give a damn.[12]
Misprints
[
]
Hypervolt Grasp was printed with a Gruul symbol as watermark, despite being an Izzet card.
A small number of the foil Thunderheads were printed with the letters 'y' and 'w' missing from their italics text (flavor and reminder text).
Mechanics and themes
[
]
Guildpact continued the guild model and introduced the next three two-color guilds, each with their own keyword. The introduced guilds are as follows:
To note: the Guilds are presented in the official





order, but they were originally displayed in a different order by Wizard: Izzet League, Gruul Clans, Orzhov Syndicate.
Creature types
[
]
The following creature types are introduced in this expansion: Nephilim, Weird.
The following creature types are used in this expansion but also appear in previous sets: Advisor, Angel, Archer, Assassin, Avatar, Bat, Beast, Berserker, Centaur, Cleric, Cyclops, Djinn, Dragon, Drake, Druid, Dryad, Elemental, Elephant, Elf, Faerie, Giant, Griffin, Gargoyle, Goblin, Horror, Hydra, Illusion, Imp, Insect, Knight, Leviathan, Ogre, Phoenix, Ooze, Rogue, Sand,[17] Shaman, Skeleton, Soldier, Spirit, Thrull, Vampire, Viashino, Vedalken, Warrior, Wizard, Wurm.
Cycles
[
]
[18]
Guildpact has four cycles:
Reprinted cards
[
]
The following cards have been reprinted from previous sets:
Notable cards
[
]
Preconstructed decks
[
]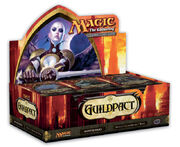 In Guildpact, as there are three guilds, there are only three decks, rather than the standard four theme decks; the three decks are oriented around the guilds introduced in Guildpact. The preconstructed theme decks are:
References
[
]
External links
[
]