Raise a Floppa - The Loop
Play Sound
Hour of Devastation

Set Information
Set symbol
Symbol description
Nicol Bolas' horns
Design
Shawn Main (lead)
Ken Nagle
Jackie Lee
Jules Robins
Sam Stoddard
Mel Li
Mark Rosewater
Development
Dave Humpherys (lead)
Bryan Hawley
Ian Duke
Eric Lauer
Jackie Lee
Ari Levitch
Kimberly J. Kreines
Tim Aten
Mons Johnson
Release date
July 14, 2017
Plane
Amonkhet
Themes and mechanics
Nicol Bolas, Deserts, Curses, Brick counters, -1/-1 counters, Split cards
Keywords/​ability words
Afflict, Eternalize, Exert, Cycling, Aftermath
Set size
199 cards
+10 Planeswalker deck exclusives
Expansion code
HOU[1]
Development codename
Laughs
Amonkhet block
Magic: The Gathering Chronology
Hour of Devastation is the 75th Magic expansion, and the second in the Amonkhet block. It was released on July 14, 2017,[2] and is a small expansion.
Set details
[
]
Hour of Devastation contains 199 cards (15 basic lands,[3] 70 commons, 60 uncommons, 42 rares, 12 mythic rares) and includes randomly inserted premium versions of all cards. The expansion symbol represents the horns of Nicol Bolas. The Planeswalker decks contain 10 additional cards that are considered to be part of the set (2 mythic planeswalkers, 2 rares, 2 uncommons, 2 commons and 2 common dual taplands).[4] These are numbered #200/199 to #209/199). Five of basic lands are full-art (different art from the Amonkhet ones).[5]
While the previous set mostly was top-down design inspired by Egypt with some top-down Bolas, Hour of Devastation is mostly top-down Bolas with some top-down Egypt.[6][7] Starting with Hour of Devastation R&D pulled back significantly on how often Gatewatch planeswalkers appear as cards.[8] The non-full art basic lands were previewed in Archenemy: Nicol Bolas.[9]
Storyline
[
]
As promised, the God-Pharaoh has returned. Unfortunately, the promise of a glorious afterlife wasn't quite what everyone thought it was. Nicol Bolas has come to claim his perfect Zombie army, the Eternals. The Gatewatch is easily defeated. Samut's planeswalker's spark is ignited.
The cards that represent the Story Spotlights in Hour of Devastation are: Hour of Revelation, Hour of Glory, Hour of Promise, Hour of Eternity, Hour of Devastation.
Magic Story
[
]
| Title | Author | Release Date | Setting (plane) | Featuring |
| --- | --- | --- | --- | --- |
| The Hour of Revelation | Alison Luhrs | 2017-06-07 | Amonkhet | Nicol Bolas, Gods of Amonkhet, Samut, Djeru |
| Feast | Alison Luhrs | 2017-06-14 | Amonkhet | Razaketh and the Gatewatch |
| Hour of Glory | Michael Yichao | 2017-06-21 | Amonkhet | Rhonas, Oketra, Kefnet, Hazoret, Bontu |
| The Hour of Promise | Alison Luhrs | 2017-06-28 | Amonkhet | Hapatra, Kefnet, Oketra, Samut, Djeru, Gideon |
| Favor | Michael Yichao | 2017-07-05 | Amonkhet | Hazoret, Bontu, Nicol Bolas, Samut, Djeru |
| Hour of Eternity | Ken Troop | 2017-07-12 | Amonkhet | Nylah, the Scarab God, Asenue, Genub, Makare, Kawit, Nicol Bolas, Amenakhte |
| Endure | Michael Yichao | 2017-07-19 | Amonkhet, Theros | Samut, Djeru, Hazoret, the Scorpion God, Haq, Neheb, the Eternal, Hapatra, the Gatewatch, Masikah, Nicol Bolas |
| Hour of Devastation | Ken Troop | 2017-07-26 | Amonkhet | the Gatewatch, Nicol Bolas |
Marketing
[
]
Hour of Devastation is sold in 16-card boosters (one card being a marketing card), two planeswalker decks and the Hour of Devastation bundle. The boosters feature artwork from Nicol Bolas, God-Pharaoh, Samut, the Tested, Fame (Claim/Fame), The Scarab God and Angel of Condemnation. Like Magic 2013 before, the packaging is mostly Bolas-flavored.
Amonkhet Invocations
[
]
The Masterpiece Series for Amonkhet block are called Amonkhet Invocations. These are all premium foil cards with a special Amonkhet card frame and a separate expansion symbol (). Thus, they are not part of the sets. Amonkhet Invocations are all about the Amonkhet gods, their magic and their servants.[10] They include all new art, a card frame inspired by Egyptian steles without flavor text. They appear slightly more often than premium mythic rares. These cards are playable in limited and formats where they're already legal. 30 Invocation cards previously appeared with Amonkhet and 24 more cards appear in Hour of Devastation.[11]
Events
[
]
Promotional Cards
[
]
Tokens
[
]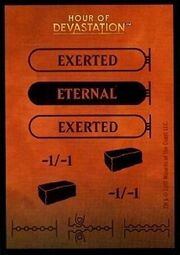 There are 12 tokens for Hour of Devastation. Every creature spell with Eternalize has a unique matching token.[14]
The following tokens printed in Amonkhet are also used for cards in Hour of Devastation:
In addition some boosters feature a punch card with markers for exerted and eternal, brick counters and -1/-1 counters.
Themes and mechanics
[
]
-1/-1 counters, Exert, Cycling and Aftermath split cards are carried over from the previous set.[15] Exert now shows up as an activated ability.[5][16]
Brick counters are used again as well, only this time they represent the dismantling of the monuments (cards start with 3 counters; removing one creates an effect).[17]
There are two new named mechanics:[15]
Eternalize — a keyword ability which is an evolved Embalm. Eternalize can only be activated if the creature is in the graveyard. When activated, the card is exiled and creates a token copy of itself. This creature token is a copy of the eternalized creature, except that it is a zombie in addition to its other creature types and monocolored black. Its power/toughness becomes 4/4. Many creatures with eternalize have abilities that get better because of their increased power.
Afflict — a triggered ability with a variable value. Whenever a creature with this ability becomes blocked, defending player loses life equal to the Afflict value.
Card types
[
]
This set adds the three forgotten Gods from Amonkhet.
The desert theme of Amonkhet is expanded on.[18] There are cards throughout the set that reward you for either controlling a Desert or having a Desert card in your graveyard.[15]
Cycles
[
]
Hour of Devastation has at thirteen cycles, two of which are partial and one other vertical:
Partial cycles
[
]
As a tribute to Bolas, several three-card cycles within the Grixis arc were present in the set.
Vertical cycle
[
]
Reprinted cards
[
]
Functional reprints
[
]
Card comparisons
[
]
Preconstructed decks
[
]
Hour of Devastation has two planeswalker decks:[13]
Notable cards
[
]
Banned and Restricted cards
[
]
Ramunap Ruins is part of the utility Desert cycle, and the only real one to see regular competitive play. With all the top-end power of Red Mythic Rares released in the last year, the free 4-6 damage from the Ruins made it difficult for any deck to stabilize, given how much reach the deck already had in its spells. It was banned alongside Rampaging Ferocidon, and given how the deck was still dominant up until rotation, the concerns were well founded.
References
[
]