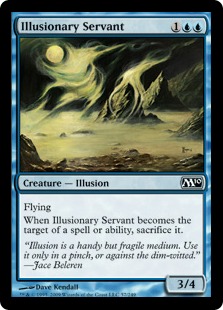 Illusion is a creature type.
Details
All recent Illusions are Blue creatures with a high Power/Toughness for a relatively low Mana Cost. Flying is quite common amongst them because they are blue creatures. All recent Illusions have the effect: "When this card is the target of a spell or ability, Sacrifice it.""
2012 Core set introduces a lot of great Illusions and Lord of the Unreal can greatly boost them with +1/+1 and Hexproof. With Illusions you can get a 2/2 for 1 mana or a 5/5 Flying for 4 mana or pay only 2 mana to copy any creature your opponents or you have as an Illusion clone.
In other languages
Language or script
Title
Romanization
French

Illusion
German

Illusion
Italian

Muro
Portuguese

Barreira
Spanish

Muro
Russian

Стена
Stena
(GOST 2002)
Japanese

イリュージョン
Iryūjon
(Hepburn)
Korean

환영
(幻影)
Hwan-yeong
(Revised romanization)
Simplified Chinese

虚影
Xūyǐng
(Pinyin)
Traditional Chinese

虛影
Xūyǐng
(Pinyin)
Heoi1 jing2
(Jyutping)