Raise a Floppa - The Loop
Play Sound
Innistrad: Crimson Vow is the 90th Magic expansion.[2] It was released on November 19, 2021, and is paired up with Innistrad: Midnight Hunt that released two months earlier.[3][4][5]
Set details
[
]
The codename for Innistrad: Crimson Vow ("Clubs") deviates from the regular alphabetic sports naming convention, because the set was conceived after the following codenames were already established.[6] The set was announced with the provisional name Innistrad: Vampires on September 1, 2020.[3] Based on the registration of public domains on September 18, 2020, the final name was speculated to be Innistrad: Crimson Vow.[7] This was finally confirmed on March 18, 2021.[4]
Both Innistrad sets are full size sets and they are both are Standard-legal. Although they come out only two months apart in the latter part of 2021, R&D is not changing how many sets are being added to Standard during the rotation window, but just shifted the timing around slightly.[8] The sets are designed to draft by themselves, but they also will draft well together. The two sets are synergistic and overlap in spots.[9][10] This will be further explored as the sets are reprinted in the Innistrad: Double Feature set that will be released in early 2022.
Innistrad: Crimson Vow contains 277 regular cards (100 commons, 83 uncommons, 64 rares, 20 mythic rares, 10 basic lands) and includes randomly inserted premium versions of all cards.[11] The regular cards include 10 "Eternal Night" basic lands. Each type has two different pieces of black-and-white art with colored accents. Alternate card frames have another card number than the original version. Borderless planeswalkers are numbered #278-280, borderless dual lands are #281-285, "Fang frame" showcase cards are numbered #286-316, "Eternal Night" showcase legendaries are #317-328, reskinned Dracula cards are #329-345 and extended artwork cards are numbered #346-397. The regular framed basic land cards from the Bundle are numbered #398-402. The Buy-a-Box card is #403 and the Bundle promo is #404. The are no FNM-treatment cards available for this set. The dark-frame Play Promos are #405-407. #408-412 are promo basic lands labeled "The Moonlit Lands". The latter differ from their "Eternal Night" counterparts in that they lack colored accents. They were given out at Innistrad: Double Feature WPN Premium events.[12]
Midnight Hunt and Crimson Vow both have the same number of single-faced and double-faced commons (90 SFC/10 DFC), uncommons (60/23), rares (53/11), and mythic rares (15/5).[11] Draft boosters include two guaranteed double-faced cards, one at common and one at a higher rarity, as in Midnight Hunt.
The black and white horror movie inspired "Eternal Night" showcase cards are all basic lands and legendary creatures that aren't a Vampire.[11] The spikey "fang" showcase cards with gothic architecture elements feature each of the 30 vampires in the main set, as well as Sorin the Mirthless.[13]
Rules change
[
]
A change to how token naming works avoids that you can name Blood tokens with Pithing Needle.[14] Going forward, if a spell or ability is creating a token without specifying its name, the name will be the same as its subtypes plus the word "Token." For example, a "Goblin Scout creature token" is named "Goblin Scout Token." Similarly, the name of a Blood token created in the game is "Blood Token" and choosing the name "Blood" (as in Flesh // Blood) for an effect will not cause that effect to apply to Blood tokens.[15]
Storyline
[
]
Crimson Vow continues the new Innistrad storyline begun in Innistrad: Midnight Hunt.[16] As humanity turned to the hope of rituals and a Harvesttide festival to save them from the Eternal Night in Midnight Hunt, those that stalk from shadows aren't just the mindless zombies and frenetic werewolves, but also the eternally undead with calculating, grand designs of their own. This set features the biggest vampire wedding in Innistrad history[2][4], a bonding between the Markov and Voldaren bloodlines.[16] Olivia Voldaren is the bride, and aims to form a pact with the Markovs to take control over Innistrad.[17] "The bride pledges her heart to the groom and he, his undying affection to her. Blood and famine, violence and peace—In eternal life and through moment's struggle, the two shall rule this land until its people are no more. The Heron's blood make it so."[18]
The cards that represent the Story Spotlights in Crimson Vow are:
Marketing
[
]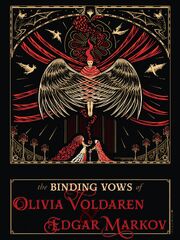 Crimson Vow is sold in regular 16-card Draft Boosters (one card being a marketing card), Theme Boosters, Collector Boosters, Set Boosters, the Crimson Vow Bundle (including a Gift Edition), and two Commander decks.[16] The Draft Boosters feature artwork depicting Sorin Markov. They contain two double-faced cards in each and every pack. The Set Boosters feature art depicting Olivia Voldaren, and the Collector Boosters feature a stylized depiction of a wedding. The Theme Boosters feature art from Welcoming Vampire (5 color vampires), Adamant Will (

), Steelclad Spirit (

), Bloodvial Purveyor (

), Blood Petal Celebrant (

) and Wolf Strike (

). With the release of Crimson Vow, 75 cards were rotated into The List, many of which were thematically or mechanically linked to the set. These can be found in the Set Boosters.[11] In addition, eight cards with the VOC code can be found in the Set and Collector Boosters that aren't found in the Innistrad: Crimson Vow Commander decks.[11]
Dracula cards
[
]
Each booster box contains a box topper.[19][11][13] These skinned cards, called the Dracula Series, feature Dracula themed "skins" on reprints of regular cards. The name of the original card is featured in a small font below the Dracula name of the card. The skin name is considered flavor text and has no effect on game play.
There are 18 total Dracula series cards in Innistrad: Crimson Vow inspired by beloved characters from the 1897 novel, and they can be obtained in a few different ways. 17 of these cards can be found in Collector Boosters (both foil and non-foil) and the single-card Box Topper boosters (foil), while the eighteenth card is only available as a Buy-a-Box promotion.
Events
[
]
Promotional cards
[
]
Tokens/emblems/markers
[
]
There are 21 tokens and emblems:[24]
Themes and mechanics
[
]
Innistrad: Crimson Vow has a new mechanic Cleave, an alternative cost that allow to remove words from the rule text. It shows up on instant and sorcery cards.[25]
As following from the previous Innistrad sets, focuses on five allied-colored tribes, each of which have a mechanic associated to them - however, these mechanics can appear outside of those two colors.
Limited archetypes
[
]
Innistrad: Crimson Vow features the following limited archetypes:
Card types
[
]
Vampires in this set also appear in white.[26] Markov Waltzer and Odric, Blood-Cursed are the first multicolored vampires without black in their costs.
Investigator's Journal is the first Standard-legal card with the Clue type and the first nontoken clue printed after the supplemental Parcel Myr.
Cycles
[
]
Crimson Vow has ten cycles.
Double cycles
[
]
Pairs
[
]
Innistrad: Crimson Vow features three pairs.
Reprinted cards
[
]
Notable cards
[
]
Misprints
[
]
Preconstructed decks
[
]
Innistrad: Crimson Vow features two Commander decks that are released as a regular part of a set's product line.[32]
Gallery
[
]
References
[
]
External links
[
]