Jiang Yanggu is a planeswalker boy from the Plane of Mountains and Seas, who is always accompanied by a sapient dog named Mowu.[1]
Appearance and characteristics
[
]
He has power over the creatures of the forest, and can magically enhance their strength. Jiang is able to planeswalk with his dog as part of his planeswalking ability.[2]
Jiang Yanggu is centered in green mana.
History
[
]
Origin
[
]
After waking up with no memories, he didn't know his name or family. He renamed himself Yanggu (literally "valley where sun rises"[3]) after the Easternmost Valley of his home country.[4][5] To save the Jiuli Clan, which was haunted by plague, Yanggu ventured into the Ten Wizards Mountain for a solution. Here he battled, and later befriended, the mysterious water mage Mu Yanling. With Yanling's help, Yanggu tackled the threat of the plague. In order to find out who he really was, he went onto the journey of expedition with Mu Yanling.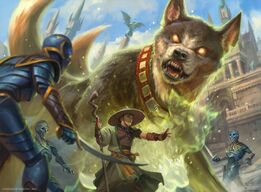 War of the Spark
[
]
Jiang Yanggu and Mu Yanling were lured to Ravnica by the Interplanar Beacon, and immediately became trapped there due to Bolas's use of the Immortal Sun. Alongside many other planeswalkers and Ravnicans, he fought against the Eternals of Bolas' Dreadhorde.[6]
During the invasion, the trapped planeswalkers got together with Ravnican leaders to strategize. At Jace's recommendation, they decided to split up into teams to focus on specific tasks. Ajani, Huatli, Jiang Yanggu, and Mu Yanling volunteered to help protect and rescue civilians. With the help of Vraska and the Golgari Swarm, they were able to evacuate many civilians to the tunnels beneath the city, where they would be safe from the Dreadhorde.
Yanggu was one of the few planeswalkers who chose to remain on Ravnica after Chandra disabled the Immortal Sun, helping the Gatewatch in their fight against Bolas. He and Yanling survived the battle, and they were among the first planeswalkers to leave Ravnica after Bolas' defeat, with Mowu turning into a stone statue before both he and Yanggu disappeared.
Planeswalkers met
[
]
Planes visited
[
]
Gallery
[
]
Story appearances
[
]
| Title | Author | Publishing date | Set | Setting (plane) | Featuring |
| --- | --- | --- | --- | --- | --- |
| War of the Spark: Ravnica—Rallying the Reluctant | Greg Weisman | 2019-05-22 | War of the Spark | Ravnica | Rat, Kaya, Teyo Verada, Lavinia, Ral Zarek, Aurelia, Vorel, Gideon Jura, Jace Beleren, Isperia, Jiang Yanggu, Mowu, Dack Fayden, Ob Nixilis, Davriel Cane, Angrath, Huatli, Samut, Jaya Ballard, Vivien Reid, Ajani Goldmane, Kiora |
| War of the Spark: Ravnica—Desperate Operatives | Greg Weisman | 2019-05-29 | War of the Spark | Ravnica | Rat, Kaya, Teyo Verada, Nissa Revane, Emmara Tandris, Trostani, Borborygmos, Ral Zarek, Storrev, Izoni, Varolz, Vraska, Ajani Goldmane, Mu Yanling, Jiang Yanggu, Mowu, Huatli |
| War of the Spark: Ravnica—Ashes | Greg Weisman | 2019-06-12 | War of the Spark | Ravnica | Rat, Gideon Jura, Tomik Vrona, Lavinia, Ral Zarek, Jace Beleren, Chandra Nalaar, Teferi, Ajani Goldmane, Nissa Revane, Jaya Ballard, Karn, Kaya, Teyo Verada, Isperia, Dack Fayden, Saheeli Rai, Hekara, Vraska, Nicol Bolas, Borborygmos, Samut, Vorel, Sorin Markov, Nahiri, Arlinn Kord, Feather, Liliana Vess, Oketra, Rakdos, Bontu, Niv-Mizzet, Angrath, The Wanderer, Mu Yanling, Jiang Yanggu, Mowu, Vivien Reid, Aurelia, Exava, Lazav |
In-game references
[
]
Represented in:
Depicted in:
Quoted or referred to:
References
[
]