Kaldheim (plane)
Kaldheim is a top-down Norse mythology-inspired plane; Magic's take on what a world inspired by Vikings might look like.[1][2]
History in the game
Kaldheim was first featured on the card Skybreen in the 2009 Planechase set.[3] In the Duels of the Planeswalkers 2014 game, Kaldheim was the location of the ultimate antagonist Ramaz. In 2021, it is the setting of the eponymous Kaldheim set.
Description
Kaldheim is steeped in storytelling and song, and all of its denizens share a common ethos: it is a plane of warriors who boast of their great deeds and yearn to die heroically in battle, who fight hard and celebrate harder, and where great tales pass into myth through the ages.[4]
Pivotal to the plane is the Cosmos, a "realm between" which Planeswalkers cannot cross[5] represented by a massive World Tree, from which ten separate realms hang like fruits. The realms are constantly shifting and, on occasion, may collapse unto each other. When this happens, a Doomskar occurs.[6] This causes earthquakes, destabilization, and total chaos.
There is no sun or moon in Kaldheim.[7] Light is instead provided by the realm of Starnheim. In addition, the branches of the World Tree can be seen in the skies of the realms.[8]
History
The world was born from a seed, and that seed grew into the World Tree, and everything else grew from it. Its leaves were every color imaginable, and as its branches spread out, they became worlds themselves. And once there were ten strong branches, fruit grew on the branches, and those were the Cosmos monsters. The serpent was the firstborn, and he has been growing since before the beginning of time.
At some point in the past the Einir gods ruled the realms, but they were replaced by the Skoti, who became the new pantheon. The defeated Einir became the plane's elves.[9]
The Ten Realms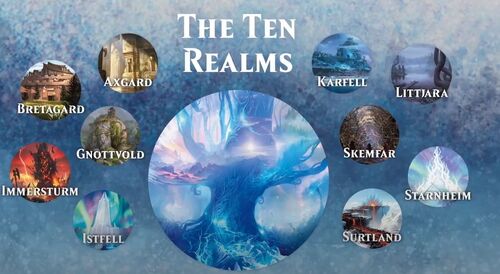 The Ten Realms are separate mini-planes moving around the World Tree and can even collide. Each realm is loosely aligned with a color pair.
Unknown location
Inhabitants
Gods[10] The gods of Kaldheim are a mercurial bunch. And as much as the denizens of Kaldheim want to be recognized for their amazing feats, they fear to be at their gods' mercy.
Zombies (Draugr)
Trolls

Hagi Trolls
Torga Trolls

Angels (Valkyries)
Giants

Frost Giants
Fire Giants

Elves

Wood Elves
Shadow Elves
Planeswalker visitors
Trivia
The name "Kaldheim" literally means "cold home" in several North Germanic languages, such as Old Norse, Icelandic, and Norwegian Nynorsk. "Home" means "land", "realm" or "world" in this context, like in Old Norse Jǫtunheimr "land of the giants" or "Giants' home". The word heimr was used along with the word garðr lit. "yard" (as in Miðgarðr lit. "Midyard") in the names of various realms in Norse mythology.
Due to Immersturm being a realm of Kaldheim it is possible that Valla is simply another name for this plane.
References
External links
Kaldheim

Kaldheim sets
Kaldheim storyline

Characters

Locations

Affiliations

Other