Raise a Floppa - The Loop
Play Sound
Kamigawa: Neon Dynasty is the ninety-first Magic expansion. It was released on February 18, 2022.[2][3][4]
Set details
[
]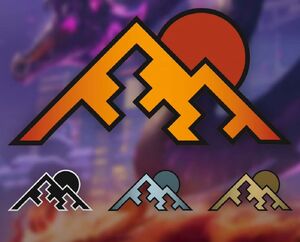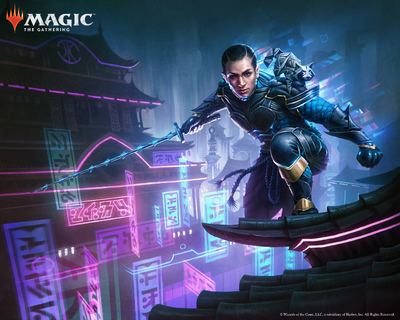 The setting of Neon Dynasty is described as Magic: The Gathering's first science fiction plane.[3] Several Japanese artists were engaged to produce card illustrations, among them famous manga artists like Tetsuo Hara.[5] The central conflict of the set is the conflict between modernity and tradition - a metafictional reference to how R&D struggled to develop a sequel to one of the worst received blocks of Magic, separating it from the previous setting while making it recognizably the same plane. Half of the set features the new mechanized world of modern Kamigawa, while the other half depicts the more traditional Kamigawa as seen in the earlier block.[5][6]
Kamigawa: Neon Dynasty contains 302 regular cards (117 commons, 88 uncommons, 59 rares, 18 mythic rares, 20 basic lands) and includes randomly inserted premium versions of all cards. Draft boosters include a guaranteed double-faced card in common or uncommon, with the rare or mythic DFC distributed as normal. The regular cards include 10 "Ukiyo-e" basic lands. Each type has two different pieces of "block-stamped" art.[7] Alternate card frames have another card number than the original version. Borderless planeswalkers are numbered #303-306. The two cards with Phyrexian frame and language are #307-308. "Samurai frames" are #309-330, "Ninja frame" showcase cards are numbered #331-353 and "Soft Glow" showcase cards are #354-405. Borderless Legendary Dragons and lands are #406-416. Twelve mythic and rare cards with alternate frames received versions with the foil-etched treatment. These are numbered #417-428 and are exclusively found in Collector Boosters. The "Neon Ink" cards are #429-432, and extended artwork cards are numbered #433-505. The Bundle promo is #506 and the Buy-a-Box card is #507. The dark frame treatment cards from the Universal promo pack are numbered #508-512.
The "Ninja frame" and "Samurai frame" showcase cards are all Ninjas and Samurai respectively. The 'soft glow" showcase cards are used for alternate versions of all other rare and mythic cards.[8][9] The "Neon Ink" card treatment only appears on four different versions of Hidetsugu, Devouring Chaos.[7] There are about half as many green ink cards as blue ink cards, and about a quarter that many red ink cards as green ink cards. The yellow ink cards are a promo for WPN Premium shops.
History
[
]
Public domain name registries connected to this set were filed by NetworkSolutions in October, 2020.[10] A further registration with the gg domain was filed by Wizards itself in May 2021.[11] The set was already hinted at in a public Magic survey from November 19, 2019 that featured multiple pieces of Planeswalker art with descriptions referencing a future Kamigawa.[12]
Rules change
[
]
Previously, a vehicle that had become a creature was able to be tapped for its own crew ability. This rarely came up, and it doesn't make a lot of sense for a vehicle to crew itself, so the rules are changed slightly to prevent that. You must now tap other creature to crew a vehicle.
Storyline
[
]
Neon Dynasty is set in the current era on Kamigawa, more than 1200 years after conclusion of the original Kamigawa block in 3326 AR.[13][14][15] The plane's feudal past has met futuristic modernity, with ninjas and samurai now carrying a cyberpunk aesthetic.
The Emperor of Kamigawa has been missing for ten years. While the Imperials have to deal with Futurists and Uprisers, the planeswalkers Tamiyo and Kaito Shizuki are confronted by an interplanar danger.
The cards that represent the Story Spotlights in Neon Dynasty are:
The story was also in Magic Story and in the Kamigawa: Neon Dynasty manga.
Marketing
[
]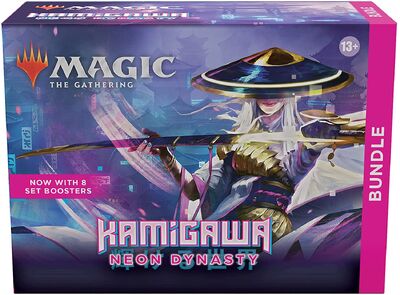 Neon Dynasty is sold in regular 16-card Draft Boosters (one card being a marketing card), Theme Boosters, Collector Boosters, Set Boosters, the Neon Dynasty Bundle, and two Commander decks.[16][17] The Draft Boosters feature artwork depicting Kaito Shizuki. The Set Boosters feature art depicting the Wanderer, and the Collector Boosters feature artwork depicting a nezumi rider. The Theme Boosters feature art from Thousand-Faced Shadow (Ninjas), Imperial Subduer (

), Prosperous Thief (

), Mukotai Ambusher (

), Dragonspark Reactor (

) and Kappa Tech-Wrecker (

). With the release of Neon Dynasty, 75 cards were rotated into The List, many of which were thematically or mechanically linked to the set. These can be found in the Set Boosters.
Beadle & Grimms Silver and Platinum Editions
[
]
For this set, Wizards of the Coast partnered with Beadle & Grimms, a gaming company that previously had offered official, expanded editions of Dungeons & Dragons modules and other games. They are known to create in-flavor maps, handouts, artifacts, bonus encounters, and other accessories.[18][19]
Their Kamigawa Silver Edition for $ 199.00 included a demon-themed Lightning Blue deck box, 100 Gold Dragon sleeves, a Kamigawa Art card folio, an art-inspired life counter, a LED playmat, a Kamigawa metal counter set, a demon mask necklace, an exclusive game log, a Kamigawa world map and an in-world Guide to Kamigawa.
The Kamigawa Platinum Edition for $ 449.00 additionally included an exclusive Neon Dynasty-themed backpack, a sword-adorned card vault, a kami-themed Neon Pink deck box, 100 Black Dragon sleeves, a Kamigawa wall art poster, 5 lithographic art prints and a sidekick plush.
These sets of merchandise notably don't include Magic playing cards.
[

]
The Kamigawa: Neon Dynasty Official Teaser featured a scrambled image of the Kaito Shizuki planeswalker card.[20]
AR experience
[
]
In January 2022, players can step into the streets of Kamigawa with a special web-based augmented reality experience exclusive to WPN stores.[16] Scanning a QR code in stores with their mobile device, players can view and interact with a street market as long as they're in the store. During the event, players can also access exclusive animated preview cards among other unique encounters within the environment.
Events
[
]
Promotional cards
[
]
Tokens and emblems
[
]
There are 19 tokens and emblems[26]:
Themes and mechanics
[
]
The designers have taken some design elements from the first block and meshed them with science fiction elements.[13]
Ninjutsu is a returning mechanic from Betrayers of Kamigawa. It allows a player to put a Ninja creature card from their hand into play tapped and attacking by paying a cost while returning another attacking, unblocked creature they control to its owner's hand.
Another returning mechanic is Channel, which was first seen in Saviors of Kamigawa. Channel cards have an activated ability that lets you discard them to get a temporary effect. This time around it is limited to enchantments, artifacts and lands; rather than Spirit creatures.
Enchantment creatures, which were last seen in Theros Beyond Death, are also returning. They appear in combination with other popular mechanics, such as Sagas, Double-faced cards and Transform. In these cases, the front side (closed fan symbol) is a saga, while the back side (opened fan symbol) is an enchantment creature.[27]
Modified is a batching term that collectively refers to creatures that are equipped, enchanted, or have counters on them.[27]
Reconfigure is a new mechanic that allows artifact creatures that are equipment to attach themselves to other creatures.
Compleated is a new keyword that describes Phyrexian planeswalkers. It appears on Tamiyo, Compleated Sage along with Phyrexian hybrid mana (

).
Bushido is not a featured keyword. Jukai Trainee features the mechanic written out as an allusion.[28]
Limited archetypes
[
]
Kamigawa: Neon Dynasty features the following limited archetypes:
Card types
[
]
Artifacts and enchantments fulfill a similar mechanical role in the set but are flavorfully contrary to one another. The modern side of Kamigawa uses various types of artifacts. The traditional side uses various types of enchantments. The modern side has artifact creatures and Equipment. The traditional side has enchantment creatures and Auras. Each side is weighed toward certain colors:
Modernity < blue < red < black > white > green > Tradition.
Black in particular features cards that benefit from the player controlling both an artifact and enchantment, which was previously a threshold ability called "Balance" within Vision Design. [6]
Legendary creatures are a theme, like in the original block. Ninjas and Samurai are also heavily featured in this set.[5]
Vehicles are featured as constructs that the Kami can inhabit for a more physical form. Those with Vehicle synergy are denoted as Mechs.
Cycles
[
]
Kamigawa: Neon Dynasty has six cycles.
Cycle name
Legendary Dragon Spirits
Ao, the Dawn Sky
Kairi, the Swirling Sky
Junji, the Midnight Sky
Atsushi, the Blazing Sky
Kura, the Boundless Sky
Five mythic rare legendary Dragon Spirits that have a choice of two abilities when the creature dies.
Legendary lands
Eiganjo, Seat of the Empire
Otawara, Soaring City
Takenuma, Abandoned Mire
Sokenzan, Crucible of Defiance
Boseiju, Who Endures
Five rare legendary lands with channel. The channel ability costs less to activate for each legendary creature you control.
Marches
March of Otherworldly Light
March of Swirling Mist
March of Wretched Sorrow
March of Reckless Joy
March of Burgeoning Life
Five rare spells that cost M. These spells cost less to cast for each card you exile of their same color when you cast them.
Invocations
Invoke Justice
Invoke the Winds
Invoke Despair
Invoke Calamity
Invoke the Ancients
Five monocolored rare spells that have "Invoke" as the first word of their name and quadruple colored mana in their cost. They were designed to resemble monocolored Ultimatums (see Shards of Alara or Ikoria) and as a reference to the five Myojin.
Go-Shintai Shrines
Go-Shintai of Shared Purpose
Go-Shintai of Lost Wisdom
Go-Shintai of Hidden Cruelty
Go-Shintai of Ancient Wars
Go-Shintai of Boundless Vigor
Five Shrines that are also enchantment creatures.
Double cycles
[
]
Vertical cycle
[
]
Pairs
[
]
Kamigawa: Neon Dynasty has eight mirrored pairs.
Reprinted cards
[
]
Functional reprints
[
]
Notable cards
[
]
Misprints
[
]
Preconstructed decks
[
]
Kamigawa: Neon Dynasty features two Commander decks that are released as a regular part of a set's product line.
Soundtrack
[
]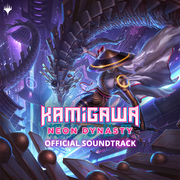 Kamigawa: Neon Dynasty Official Soundtrack was a soundtrack album released on February 18, 2022 alongside the set.[31] It features 15 tracks written and performed by various artists. Its first track, "Light it Up," was released as a single, and five others - "One With Phyrexia," "Tasukete," "Mechanical," "The Spark Inside," and "Dearest Friend" - were released as an EP.
Track Listing
[
]
| No. | Title | Artist(s) | Length |
| --- | --- | --- | --- |
| 1. | "Light it Up" | Caleb Hyles and Jonathan Young | 3:18 |
| 2. | "The Future is Bright" | Genuine and Zac Zinger | 3:28 |
| 3. | "One With Phyrexia" | Jonathan Young feat. Matthew K. Heafy | 3:54 |
| 4. | "The Neon Riverside" | Insaneintherainmusic feat. Zac Zinger | 6:36 |
| 5. | "Tasukete" | Matthew K. Heafy and Jonathan Young | 3:46 |
| 6. | "Lost Aura" | Genuine, Tomoko Akaboshi and Zac Zinger | 3:16 |
| 7. | "Dearest Friend" | Matthew K. Heafy and Jonathan Young | 3:48 |
| 8. | "Shadow of Boseiju" | Amie Waters | 6:47 |
| 9. | "The Spark Inside" | Matthew K. Heafy and Jonathan Young | 3:18 |
| 10. | "And We Glow" | Genuine | 2:48 |
| 11. | "Neon Streets" | Michelle Heafy and Jonathan Young | 3:18 |
| 12. | "Argon Reflection" | Tre Watson feat. Matthew K. Heafy | 3:56 |
| 13. | "Lands of Kamigawa" | Genuine and Zac Zinger | 3:36 |
| 14. | "Path to Victory" | Or3o, Genuine, Zac Zinger, and Tomoko Akaboshi | 3:51 |
| 15. | "Mechanical" | Matthew K. Heafy and Jonathan Young | 4:32 |
Gallery
[
]
References
[
]
External links
[
]