Fire Emblem Warriors: Three Hopes - The Loop
Play Sound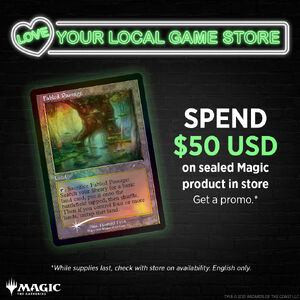 In the context of Magic: The Gathering, LGS refers to a local game store.[1] Local game shops sell Magic and other TCGs, and may for example also have miniatures, D&D and comics.
WPN supported activities
[
]
Local game shops can be the venue for the lower levels of Organized Play, supported by the Wizards Play Network (WPN). Prereleases provide a casual play atmosphere and an enjoyable atmosphere to get a preview of new cards. Friday Night Magic (FNM) enables players to compete for special foil DCI cards and other prizes. These tournaments are mostly for amateurs and are a good place to start your Magic-playing career, but are only available at stores and clubs with Wizards of the Coast Premiere status.
In-store play program
[
]
In 2017, a new in-store play program was set up under guidance of Chris Tulach.[2][3] This program differentiates local players as follows:[4]
New Player: No knowledge of how to play Magic.
Interested Player: Basic understanding of Magic, ready to learn more about strategy and game play.
Engaged Player: Competence in Magic game play, eager to invest in the game on a regular basis.
Super Fan: Dedicated to Magic for the long-term. Later renamed Enfranchised Player.[5]
Ideal event path
[
]
| Event | Primary audience | Secondary audience | When |
| --- | --- | --- | --- |
| Magic Open House | New | Interested, Engaged | Saturday prior to each set's prerelease. |
| Magic League | Interested | New, Engaged | Four successive weeks, starting the Monday after each set's release. |
| Friday Night Magic | Interested, Engaged | New | Weekly on Fridays. |
| Prerelease | Interested, Engaged | New | Weekend before release |
| Draft Weekend | Engaged | Interested | Weekend after release |
| Standard Showdown | Engaged | Interested | Eight consecutive weekends after release |
| Store Championship | Engaged | | Eight weeks after release |
Product path
[
]
With the expanded product mix that was introduced with Throne of Eldraine — Collector Boosters, Theme Boosters, and Brawl Decks especially — the ideal product path became less about player's experience level and more about the kind of experience the player wanted.[6] This aspect was further strengthened with the introduction of the Arena Starter Kit en the Welcome Booster with Core Set 2021.[7]
Gallery
[
]
References
[
]