Fire Emblem Warriors: Three Hopes - The Loop
Play Sound
MTG Salvation

Logo as of February 2017

Type of site
Spoilers and forums
Website
http://www.mtgsalvation.com
Registration
Required to post;
part of the Fandom network
Launched
July 11, 2004
MTG Salvation (MTGS) is a website dedicated to Magic: The Gathering which focuses on Rumors and News. MTG Salvation hosts some of the more active Magic forums online, outliving the official forums on Magicthegathering.com.
Description
[
]
MTGS claim to fame were the spoilers which generally came weeks in advance of the prerelease of any given set. These spoilers were generated in the Rumor Mill and originally came from the sources of the user known as rancored_elf. After the Hasbro v. Rutter lawsuit, Hydrokinesis, Hunter, Charlequin, Captain Black and Urzassedatives became the main rumor mongers. In the latter years Wizards of the Coast has shut down most early spoiler leaks, and the Rumor Mill has become largely depended on controlled spoilers. However, there recently have been many leaks and spoilers from unofficial sources due to stolen product and mistakes with card distribution. It is known that members of Magic R&D frequent the forums.[1]
Other much frequented forums are concerned with Magic rules, flavor, Magic Online, all separate game formats, creativity and trade. The site also features daily articles, the wiki you are reading right now, and a Radar of Magic-related websites.
Name
[
]
Officially, the website www.mtgsalvation.com is known as MTG Salvation; but MTGSalvation is a suitably interchangeable name.
" 
Hmm, I think "officially" it's MTGSalvation and MTGS where it doesn't fit, but on the front page it's MTG Salvation and also everywhere in the forums... :)

So take your pick ;)

 "

—Hannes[2]
"MTGSally" (also "MTG Sally" and simply "Sally") is a common nickname for MTG Salvation. The term was coined by sneakyhomunculus on 11 December 2005, in this post.
History
[
]
Founding
[
]
MTG Salvation was launched (as "MTGSalvation", with no space) on July 11, 2004. Its founder, Xenphire (also known as "The Numen, Kuberr"), created the new website after being banned on MTGNews. In September, rumors that rancored_elf, an administrator on MTGNews, might leave that site due to internal problems drew some attention to the newly launched alternative. Sakabatou was named MTG Salvation's second administrator.
MTGNews schism
[
]
On January 1, 2005, multiple staff members from MTGNews, including rancored_elf and urzassedatives, announced their resignation from that website, claiming grievances against its forum overseer, Subterranean Spirit. The MTGNews forums were spammed with links to MTG Salvation, and MTGNews locked its forums in response. Upon reopening, Subterranean Spirit enforced a policy of banning any reference to MTG Salvation. MTG Salvation's user count then spiked abruptly as a result of people leaving (or being forced to leave) MTGNews. This necessitated the rapid promotion of many moderators, often long-time MTGNews members who Xenphire recognized.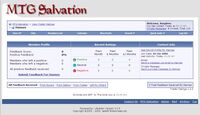 Shortly thereafter, MTG Salvation accepted an offer of server space and a vBulletin license from Hannes, the owner of MagicCards.info. Magiccards.info served card images to MTG Salvation for many years. Also during January, MTG Salvation became the first site to compile a full spoiler for Betrayers of Kamigawa.
Xenphire began to make decisions which were controversial among the staff and members. An election was held among the moderators, in which he received zero votes. He retaliated by using his rank to demote many of the moderators and a co-administrator, Wolfwood. Sakabatou, the only other remaining administrator, then stripped Xenphire's administrator rank, and re-promoted the moderators. Following Xenphire's demotion, ownership of MTG Salvation was transferred to Hannes.

On February 14, the site updated with a new front page to support articles, and began running daily weekday articles. On March 3, new moderation and formatting options were introduced, along with recurring article, artwork, avatar, and signature contests. A feature was added allowing users to submit news for the front page. Around this time, administrators Wolfwood and Sakabatou stepped down, leaving only Belgareth in that role.
Increasing traffic led to outages during the summer, and some forum functionality was disabled to mitigate the load on the server. Toward the end of the year, a new server was purchased, and MTG Salvation began selling advertising space to StarCityGames. Goblinboy, sneakyhomunculus, and urzassedatives replaced Belgareth as administrators, a role also temporarily occupied by rancored_elf and Feyd Ruin.
Hasbro v. Rutter
[
]
On January 19, 2006, Wizards of the Coast filed suit against Daron Rutter, alias rancored_elf, accusing him of sharing Wizards' proprietary information, in the form of playtest cards. At the same time, they submitted a DMCA claim with MTG Salvation's hosting company, demanding the removal of the same information.[3][4][5] Wizards of the Coast attempted to obtain summary judgment. Rutter received pro bono legal assistance from Jay Shergill, a lawyer and MTG Salvation user under the name Haloscope, and the case was ultimately settled out of court. The terms of the settlement are sealed, and in a statement on the MTG Salvation forums, Rutter said that he is "no longer interested in hearing any information about Wizards' products that aren't already publicly available".[6][7]
Later developments
[
]

In June 2006, Goblinboy resigned, leaving urzassedatives and sneakyhomunculus. They opted not to appoint further administrators.
Changes of ownership
[
]
Curse
[
]
In September 2012, it became known that the owners of MTG Salvation were in sale negotiations with Curse, a network of gaming websites. The deal was finalized on December 17, 2012.[8] The MTG Salvation Wiki became a part of Curse's Gamepedia.
Twitch
[
]
In 2016, Amazon-owned Twitch purchased the entirety of Curse, including MTG Salvation and Gamepedia.[9]
Fandom
[
]
In December 2018, Twitch sold most of Curse's properties, including MTG Salvation and Gamepedia, to Fandom.[10] Fandom is a wiki hosting service previously known as Wikia; its websites are often subtitled as a part of "FANDOM powered by Wikia".[11]
Magic Find
[
]
It was announced that the MTG Salvation forums would be closing on July 8, 2019. Fandom and its development team "[could] no longer justify the development, infrastructure, and maintenance costs of the site".[12] However, in June of that year it was revealed that instead of closing, the forums would be sold to the Magic Find platform.[13]
The sale to Magic Find was unexpected to the staff of MTGS. They had been building something of their own, called MTGNexus, and were continuing to do that. MTGSalvation would continue, but much of the current staff was leaving for their new venture.
MTGS Wiki
[
]
The MTGS Wiki is a project that was initiated on 13 December 2005. On 14 December 2005, Hannes, the bureaucrat of MTGS Wiki, changed group memberships of SorryGuy, VestDan, Voice of All, and Votan from "(none)" to "sysop" (system operator), making them the first four administrators or "mods" of MTGS Wiki.[14] Between 2007 and 2009 nine different admins were added to the roster. From these, GeoMike, Oracle of Truth and Magic Mage would remain active for the longest time. Magic Mage would become known for her eloquence, impulsivity, and a (too) intricate system of categorization. After a pause of three years, some new admins were appointed (e.g. Hunter and Barinellos).
Curse takeover
[
]
Magic Mage's reign ended in January of the following year, when too many pages were locked and too many users blocked for no apparent reason. By that time, the wiki was in dire straits and plagued by spam-bots. In that same month, however, MTG Salvation was taken over by Curse LLC which provided many improvements. In September 2013, Curse moved the wiki to a new server and to their own log-in system on Gamepedia. Since then, admins have come and gone, but the contents are gradually growing and improving.
MTG Wiki
[
]
On February 22, 2017 the name of the wiki was changed to 'MTG Wiki', steering an independent course from MTG Salvation.
Merge with Fandom wiki
[
]
After the Fandom takeover of 2018 there were two wiki's about Magic: The Gathering in the hands of the same owner. Admins, mods and staff from both Fandom and Gamepedia decided to merge the Fandom wiki with the Gamepedia wiki you are reading right now.[15] In November 2020, it was announced that all Gamepedia wikis would be moved to a Fandom.com domain in early 2021, to ensure a larger search result visibility.[16] A part of a test batch, the MTG wiki was moved early on December 2, 2020. At the same time, the original Fandom wiki was moved to the archive.
Gallery
[
]
References
[
]
External links
[
]