GTA: The Criminal Enterprises - The Loop
Play Sound
For a long time, a movie about Magic: The Gathering has been an object of speculation and wishful thinking. Through the years, there have been several initiatives.
Universal
[
]
In February 2008, Hasbro struck an agreement with Universal to produce at least four films derived from seven games and toys, including Magic: The Gathering.[1] The arrangement was touted as a significant one for Universal, which had fewer well-known franchises than rival studios. By 2012, however, the project was halted in development.[2]
Walt Disney
[
]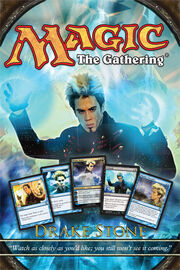 The 2010 Disney movie The Sorcerer's Apprentice had a Magic tie-in.[3] One of the characters in the movie is Drake Stone, played by Toby Kebbell, who is sponsored by Wizards of the Coast. He's such a celebrity that in the movie he even appears on cards. Instead of just mocking up regular cards, Magic R&D was called upon to make new cards for Drake Stone's appearance. They even made him a Planeswalker.[4][5]
Fox
[
]
A Magic: The Gathering movie franchise was announced on January 14, 2014.[6][7]
Twentieth Century Fox and Hasbro joined forces to make a series of films based upon Magic: The Gathering. Simon Kinberg (X-Men: Days of Future Past), whose Genre Films banner is based on the Fox Lot, would serve as the franchise's creative steward and produce in close partnership with Hasbro.
Execs Kira Goldberg and Ryan Jones were instrumental in the acquisition and would shepherd the films for Fox. Daniel Persitz would oversee for Hasbro. Hasbro CEO Brian Goldner and Stephen Davis and Wizards of the Coast president Greg Leeds would act in production capacities.
After a long period of silence, movies were still expected in December 2017, as part of Chris Cocks' effort to continue the expansion of the intellectual property.[8]
Proposed first movie
[
]
Aditya Sood and Josh Feldman, Kinberg's key execs at his Genre Films production shingle, would act as executive producers on the first movie.[9]
Bryan Cogman, a producer, story editor and writer on the HBO drama Games of Thrones, was brought in to perform a rewrite based on Kinsberg's screenplay for the first movie.[10]
WotC put together a team of four people to interface with the people making the movie to help ensure that it stayed true to the Magic brand. Mark Rosewater and Doug Beyer were part of the team, and they were very much actively engaged with the project.[11][12] Rosewater stated that WotC in general didn't want a movie with people from Earth traveling to Magic's worlds.[13]
Cancellation
[
]
After 2014, nothing was heard about the FOX movies again. It is likely they were shelved when in June, 2019 the production of an animated TV series was started in cooperation with Netflix. In August 2019 there was a major overhaul at Fox in which the majority of the existing Fox film development slate, presumably also the Magic movie, was axed.[14] In 2022, Mark Rosewater confirmed that there was no movie in the works, anymore.[15]
Netflix
[
]
In April 2020, it was reported that Netflix was working on a live-action project besides the animated miniseries.[16] The two projects won't be related. Angelina Jolie was reportedly considered to play Liliana Vess.[16]
Gallery
[
]
Fake poster for Magic: the Movie, a spoof from InQuest

Magic 2011 marketing card promoting the release of The Sorcerer's Apprentice
See also
[
]
References
[
]