Raise a Floppa - The Loop
Play Sound
Magic 2013

Set Information
Set symbol
Symbol description
"M13"
Design
Doug Beyer (lead),
Aaron Forsythe,
Graeme Hopkins,
Ryan Miller,
Mark Purvis
Development
Zac Hill (lead),
Ethan Fleischer,
Mark L. Gottlieb,
Tom LaPille,
Max McCall,
Ryan Miller
Art direction
Jeremy Jarvis
Release date
July 13, 2012
Plane
Shandalar
Keywords/​ability words
Exalted
Set size
249 cards
(101 commons, 60 uncommons, 53 rares, 15 mythic rares, 20 basic lands)
Expansion code
M13[1]
Core sets
Magic: The Gathering Chronology
The Magic: The Gathering 2013 Core Set, commonly referred to as Magic 2013 or M13, is a core set released July 13, 2012.[2]
Set details
[
]
Magic 2013 contains 249 cards (101 Common, 60 Uncommon, 53 Rare, 15 Mythic, 20 Basic Lands), including randomly inserted premium versions of all cards.[2] The returning mechanic for this Core Set was Exalted.[3] Magic 2013 was the first Core Set to contain zero cards that had appeared in every core set from Alpha on (excluding the basic lands).[4] It was also the first Core Set after Alpha to feature original art on (some of) the basic lands.[5]
Magic 2013 is largely built around Nicol Bolas, Planeswalker, which became the first multicolored card to be included in a core set.[6] The set also includes a cycle of Legendary creatures [7] (only the second time a core set included Legendary creatures (the first was Tenth Edition) and a cycle of Planeswalkers.[8] Ajani Goldmane [9] and Liliana Vess received new cards. Magic 2013 is tightly incorporated into into the digital Duels of the Planeswalkers 2013 which contained a theme deck for each Planeswalker and Legendary creature, and featured those characters as opponents and Nicol Bolas as the final boss.[10] Due to the close prospective release dates, "Duels 2013" was pushed as the introductory set, while Magic 2013 itself was to be the Magic "showcase", having many high-end, high-impact spells.
Flavor
[
]
| | | |
| --- | --- | --- |
| "  | Face a Greater Challenge |  " |
The set's flavor is an amalgamation of several different planes in the universe.[11] Krenko and Yeva hail from Ravnica, Odric from Innistrad, Nefarox from the Grixis portion of a reunited Alara, while Talrand, Xathrid Gorgon, War Priest of Thune and the equipment cycle of Rings refer to the plane of Shandalar.
Bolas, like the other planeswalkers, is supplemented with several cards capturing his flavor, including Gem of Becoming and his minions Augur of Bolas, Disciple of Bolas and Mindclaw Shaman.[12]
Magic Story
[
]
Marketing
[
]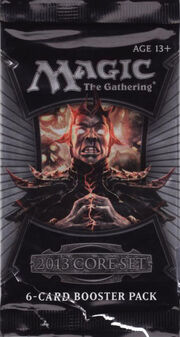 Magic 2013 was is sold in 16-card and 6-card booster packs, five Intro packs, two event decks, Booster Battle Pack"s, a fat pack and a Deck Builder's Toolkit. The packaging of the set is centered around Bolas' iconic feature, his warped horns.[13][14] The regular boosters feature art from Liliana of the Dark Realms, Augur of Bolas, Spiked Baloth, Mindclaw Shaman and Ajani, Caller of the Pride.[15] The 6-card booster features Diabolic Revelation. With each copy of Duels of the Planeswalkers 2013 a six card Magic 2013 sampler could be obtained.
Prerelease Events took place July 7–8, 2012 [16] and Launch Parties took place July 13–15, 2012 (conflicing with an earlier report of "no more Launch Parties"). Game Day took place on August 4–5, 2012. The Prerelease card was Xathrid Gorgon, the Launch promo was Staff of Nin and the Game Day card was a full-art Mwonvuli Beast Tracker (the Top 8 received a full-art foil Magmaquake).[17] A new promo card was introduced for Core set league participants: received an alternate art Goblin creature token. The Buy-a-Box card was Cathedral of War.
Regular boosters of Magic 2013 come with a bonus sixteenth card that is either a creature token or an emblem with an advertisement on the reverse side. "tips & tricks cards" were discontinued.
Tokens/Emblem
[
]
Sample decks
[
]
The Magic 2013 Core Set came with five thirty-card sample decks.
Cycles
[
]
Magic 2013 has eight cycles:
Pairs
[
]
Magic 2013 has two mirrored pairs.
Mirrored Pairs
Description
Divine Favor
()
Dark Favor
()
Common Auras with enchant creature that give a mirrored bonus to the enchanted creature's power/toughness and are illustrated by

Allen Williams

.
Knight of Glory
()
Knight of Infamy
()
Uncommon Human Knights with with a mana cost of M, power/toughness of 2/1, exalted and protection from the opposite color.[21]
Functional reprints
[
]
Notable cards
[
]
Preconstructed decks
[
]
Intro packs
[
]
The intro packs now came with two boosters. They are:[22]
Event decks
[
]
The event decks are:[23]
Core set changes
[
]
Notable changes
Gallery
[
]
References
[
]
External links
[
]