Fire Emblem Warriors: Three Hopes - The Loop
Play Sound
Duels of the Planeswalkers
Magic 2015 - Duels of the Planeswalkers, also known as Duels 2015 and D15 is a digital Magic game that came out in July, 2014 on Xbox One, Xbox LIVE Arcade, iPad, PC via Steam, Android tablet via Amazon App Store and Google Play, but not for PlayStation 3.[1] This set previewed cards from paper Magic 2015. The lead designer was Nik Davidson.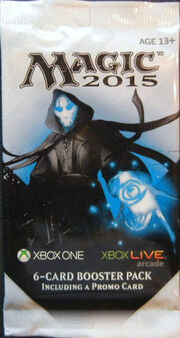 Storyline
[
]
Players will find themselves dropped into the wilderness at the heart of the story: You're not just on Garruk's list—you're next. The Curse of the Chain Veil has corrupted Garruk's body and soul. His skin has paled, his flesh struck through with blackened veins. His hunter's instinct has turned away from beasts of the wild toward the ultimate quarry — Planeswalkers! You will have to confront the deadliest hunter in the Multiverse. But, how will you defeat Garruk before he finds you?
Features
[
]
Full, Open-Ended Deck Building: Players can build their own collection of cards to create any style of deck they want.[2]
Single and Multiplayer: Battle the AI or your friends with your fully customized decks.
Promo Boosters
[
]
With each copy of Duels of the Planeswalkers 2015 a six card promotional booster could be obtained by redeeming a unique code on the official Wizards Duels of the Planeswalkers site.[3][4][5]
Xbox 360 or Xbox One copies are an alternate art Soul of Ravnica
Copies from all of the other available platforms, including iPad, PC via Steam, Android tablet via the Amazon App Store, and Google Play are an alternate-art Soul of Zendikar
Garruk's Revenge
[
]
The first expansion for the game, Garruk's Revenge, puts Garruk's fate in your hands as you take on the plane of Alara.[6][7] Playing through four new campaign nodes and one exploration node, you take on the role of Garruk, using his deck to battle your way through even more challenging foes, as Garruk's deck improves with each victory. Earn cards from Alara to later modify your own decks as you hunt your prey across the planes.
Card packs
[
]
Several free Card Pack were added to the card pool of all players. These each contained three ten-card all-foil boosters.
Master of Monsters (February 11, 2015), 30 cards, black, red and green.[8]
Riddles of Steel ( March 18, 2015), 30 cards, white, blue and artifacts.[9]
References
[
]
External links
[
]