Maro-Sorcerer
A Maro-Sorcerer, also known as a Force of Nature, is the elemental manifestation of the land, either brought about by strong magic, or of nature's own will. In Dominaria, it's believed that every wood, from a sprawling forest or a shady grove, has a spirit or avatar that keeps the site safe: these creatures can be befriended with the right magic.[1]
Dominarian forces of nature are sometimes called "maro". Some of them are servants of the world-soul, Gaea.
One such creature was summoned by Dreygar and given the Dark Amulet, but was defeated by Aldon. Another was summoned by Greensleeves.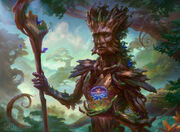 Maro is the word for the color brown in Romanian.
↑

Magic the Gathering: Calendar 1997.