MicroProse Software, Inc. (also known as MicroProse Simulation Software) is a computer software company founded in 1982. MicroProse ceased to exist in January 2001. Atari, Inc. assumed ownership of all titles.
Magic: The Gathering Desktop Themes
[
]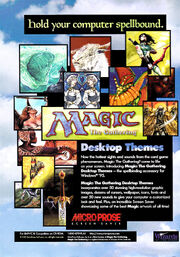 Magic: The Gathering Desktop Themes was an accessory for Windows 95. It included over 50 high-resolution graphic images, dozens of cursors, wall papers, icons, fonts, over 50 sounds and a screen saver. It immediately became a solid seller — and a sensitive topic between artists and WotC as a battle brewed over who owned the rights to all that Magic art.[1]
Magic: The Gathering Computer Game
[
]
The computer company wrote the Magic computer game for Magic, which was released in April 1997 and expanded in September 1997.
References
[
]
Gallery
[
]