Raise a Floppa - The Loop
Play Sound
Mirrodin Besieged

Set Information
Set symbol
Symbol description
An overlap of Mirran and Phyrexian symbols
Design
Mark Gottlieb (lead),
Gregory Marques,
Ken Nagle,
Mark Rosewater,
Mike Turian
Development
Erik Lauer (lead),
Ryan Dhuse,
Tom LaPille,
Mike Turian
Art direction
Jeremy Jarvis
Release date
February 4, 2011
Plane
Mirrodin
Themes and mechanics
Infect, Proliferate, Imprint, Metalcraft
Keywords/​ability words
Battle cry, Living weapon, Metalcraft, Imprint, Infect, Proliferate
Set size
155
(10 basic lands, 60 commons, 40 uncommons, 35 rares, 10 mythic rares)
Expansion code
MBS[1]
Development codename
Camera[2]
Scars of Mirrodin block
Magic: The Gathering Chronology
Mirrodin Besieged is the second set in the Scars of Mirrodin block. It is the 54th Magic expansion and was released on February 4, 2011.[3]
Set details
[
]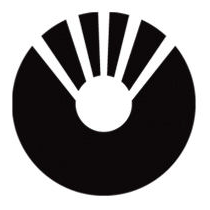 Mirrodin Besieged contains 155 cards (60 Common, 40 Uncommon, 35 Rare, 10 Mythic, 10 Basic Lands), including randomly inserted premium versions of all cards in the set. The 10 basic lands, unusual for a small set, were an added for flavor reasons. WotC asked the same artists who created the four-land panoramas for Scars of Mirrodin to extend these by two additional pieces to show how Mirrodin's lands have changed as Phyrexia's influence has spread.[4] The expansion symbol of the set is an overlap of the Mirran and Phyrexian symbols. Nearly every card in the set has a symbol of its allegiance in its text box.[5] The set features several cards that are Phyrexian versions of previous cards.[6]
Like all Mirrodin sets, Mirrodin Besieged contains many artifacts.[7] The set continues the story of Scars of Mirrodin as the Phyrexian Invasion lays waste to the Mirran countryside and its people. The set itself is split strongly between the two camps.[8] For example, the prerelease and release parties featured a special type of booster that contained only cards from one faction or the other, requiring the players to choose between them for their deck-building. Intro packs were also separated between the factions.
Further, although in Scars of Mirrodin the Phyrexian faction was limited to the colors blue, black and green, the faction also has red and white cards in this set. The number of cards per faction is evenly distributed, with 72 cards each.
Mirrodin Besieged slowed the limited format down.[9] The expansion also made a change to the draft format. In all previous draft formats the group of players started with the first set in a block, but starting with Mirrodin Besieged, the first pack to be opened is of the most recently released set.[10] The number of packs does not change however, so the draft format for Mirrodin Besieged was one booster of Mirrodin Besieged followed by two packs of Scars of Mirrodin.
Flavor
[
]
The Phyrexian assault on the metallic plane of Mirrodin intensifies.[11] The Mirran resistance rallies to survive and overcome. Both sides bring the full might of their arsenals to bear.[12][13][14][15][16][17] The silver golem Karn has retreated to Mirrodin's Core, being worshipped as the new Father of Machines. When Phyrexia grows upon Mirrodin, Karn is trapped in his own mind, battling between himself and the role the Phyrexians are trying to force upon him.[18]
Marketing
[
]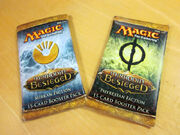 Mirrodin Besieged was sold in 16-card boosters, 6-card boosters, four intro packs [19] and a fat pack. The fat pack's content was changed removing the brief introduction of the expansion's respective novel. The amount of boosters increased from 8 to 9 and the land pack contained 80 lands, 40 from Scars of Mirrodin and 40 from Mirrodin Besieged. Two deck boxes were added. The 16-card boosters featured artwork from Mirran Crusader, Phyrexian Crusader and Tezzeret, Agent of Bolas.[20] The small booster featured artwork from Glissa, the Traitor.
The set also introduced a new sort of theme deck called an event deck.[21][22] These decks feature a 60 card main deck and 15 card sideboard, including 7 rares but no mythic rares. Mirrodin Besieged features two event decks: a Mono-red event deck for the Mirran side of the conflict, and a blue-black deck for the Phyrexians. These decks were released three weeks after the release of the set.
The prerelease was January 29–30, 2011, the launch party on February 4–7, 2011, the Magic Online release on February 21, 2011.[23][24][25] The Game Day was held on March 5–6, 2011. Starting with Mirrodin Besieged prereleases featured gimmicks. This one was to "Pick a Side" and introduced "prerelease packs"', which are boosters that are especially composed and packaged for prerelease events. In Mirrodin Besieged they were called "faction packs". Cards with Mirran watermarks appeared only in Mirran boosters, and cards with Phyrexian watermarks appeared only in Phyrexian boosters. There was also one basic land in each booster. Foil cards would show up at about the same frequency as they did in regular boosters and didn't follow the rules about what booster they could show up in (both Mirran and Phyrexian foils could show up in either booster).[26]
Two cards were previewed at the Scars of Mirrodin Game Day and given away as prizes: Peace Strider and Pierce Strider.[27] Mirran Crusader and Phyrexian Crusader were previewed at Worlds 2010.[28] Two prerelease cards were available at the Prerelease tournaments: Glissa, the Traitor for the Phyrexian faction, and Hero of Bladehold for the Mirran faction. The Release card was Thopter Assembly.[29] The promotional card at the Game Day event was a full-art Treasure Mage, while a full-art foil Black Sun's Zenith was given to the top-8 participants. The Buy-a-Box was Mirran Crusader.
Regular boosters of Mirrodin Besieged come with a bonus sixteenth card that is either a "tips & tricks card", a creature token from Mirrodin Besieged, or a poison counter. These bonus cards display on their reverse side one of 14 advertisements for organized play programs, other Magic products such as fat packs and intro packs, the Magic books library, Magic Online, UltraPro products, or various Wizards-run, Magic-related websites (such as community.wizards.com).
Tips & Tricks
[
]
The tips & tricks cards are
Tokens
[
]
The Mirrodin Besieged tokens in numerical order are:[30]
Themes and mechanics
[
]
Mirrodin Besieged has a theme of Mirrored Pairs, with cards from the Phyrexian and Mirran factions mirroring each other. Such a mirror is showcased with cards such as Peace Strider and Pierce Strider or Mirran Crusader and Phyrexian Crusader. There are also cards that mimic cards from the previous Mirrodin block, but with Phyrexian influence, e.g. Viridian Corrupter mimics Viridian Shaman, Blightsteel Colossus mimics Darksteel Colossus and Inkmoth Nexus mimics Blinkmoth Nexus, thus representing Phyrexia spreading its influence over the plane and co-opting its inhabitants.
The mechanics Metalcraft, Imprint, Proliferate and Infect return from the previous set.[31] Two new keyword mechanics are featured, one for each faction.[32] The Mirran keyword is Battle Cry, which gives every other creature that attacks when the creature with Battle Cry attacks a +1/+0 bonus.[33][34] The Phyrexian mechanic is Living Weapon, a new keyword for Equipment. All equipment with Living Weapon give a power/toughness bonus, but upon entering play they put a 0/0 black Germ creature token into play and attaches the equipment to it.[35][36]
A new rules term is "poisoned". A player is poisoned if they have any poison counters.
Cycles
[
]
Mirrodin Besieged has 3 cycles:
The set also contains a set of basic lands, two of each color, which is uncharacteristic for a small set in a block. Their purpose lays in flavor, showing the growing Phyrexian corruption of the Mirran landscape.
Pairs
[
]
Mirrodin Besieged has 4 mirrored pairs.
Reprinted cards
[
]
Functional reprint
[
]
Notable cards
[
]
Preconstructed decks
[
]
Intro packs
[
]
Mirrodin Besieged has four bicolored intro packs.[19]
Event decks
[
]
Event decks were introduced in Mirrodin Besieged; Mirrodin Besieged has two event decks.[38]
References
[
]
External links
[
]