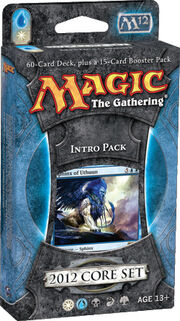 Attack early, attack often! That's the motto of the "Mystical Might" deck, which seeks to overwhelm your opponents with elusive—and illusory—creatures before they can mount a defense.
The deck's Illusions are powerful fighters, but they have a catch: If they ever become the target of a spell or ability (even by you), the magic that's keeping them intact will fail and they'll be put into the graveyard. That's where Lord of the Unreal comes in. Not only does this creature give your Illusions +1/+1 so they hit harder, but it also gives them hexproof, so your opponent isn't even allowed to target them!
Once you have a small fighting force, you have a few options to keep your opponent off -balance. You can use counterspells, like Cancel, and temporary removal spells, like Unsummon and Oblivion Ring, to keep potential blockers off the battlefield while your army finishes the job. It doesn't take that many hits from 2-power creatures to knock your opponent all the way from 20 life to 0! Or you can ramp up the aggression by casting gigantic flying creatures such as Sphinx of Uthuun. Just keep attacking and some of your creatures are bound to get through!
A simple way to make the deck more powerful is to increase the Lord of the Unreal count. Their bonuses stack up, so if you have two of them and one Phantasmal Bear on the battlefield, the Bear is 4/4! Phantasmal Image also supports this theme, since it can enter the battlefield as an Illusion copy of the best creature any player has. If you like the fearsome flier theme instead, Djinn of Wishes is a perfect addition to your air force