Mythic Invitational 2020

Date
August 28-30, 2020
Location
MTG Arena
Attendance
160
Format
Historic Constructed
Prize pool
$250,000
Winner
Seth Manfield
Mythic Invitational 2020 is the first and only rebranded Mythic Invitational to be played on MTG Arena in 2020. It took place on September 10-13, 2020.[1][2]
Description
[
]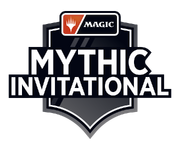 The partial 2020 Players Tour Season was supposed to feature two Mythic Invitationals: Mythic Invitational – Ikoria: Lair of Behemoths on May 14–17, 2020, and Mythic Invitational – Core 2021 on July 23–26, 2020. Both of these events were canceled due to the necessary Coronavirus pandemic rescheduling, and replaced by a single event in August. At the same time the Mythic Invitational – Zendikar Rising planned for the 2020–21 Players Tour Season was cancelled. The prize pool was reduced from 3 x $750,000 to $250,000. The date for the Mythic Invitational was later moved from August to September.[2]
The Mythic Invitational 2020 is not be played for Mythic Points, and therefore doesn't impact MPL or Rivals invitations for the 2020–21 Players Tour Season.[3] It is the first professional play event on MTG Arena to feature the Historic format.[4]
Contestants
[
]
All MPL (24) and 2020 Rivals League (40) members
All players who earned qualifications to any Mythic Invitational this year:

Top four unqualified players from Mythic Championship VII, plus the player who could not attend from visa issues
Ten-win players (66) from Invitational Qualifiers (January, March, May, June)
Winner of the DreamHack Anaheim tournament

Outstanding Mythic Point leaderboard competitors from Q1 and Q2 (22)
Three discretionary invitations as determined by Wizards of the Coast
In total, there were 161 invitees. However, Dmitry "Qwerty.saw" Savintev was unable to attend which resulted in 160 participants.
Format
[
]
The Mythic Invitational used the following structure:
14 Swiss rounds

Day 1: 7 Rounds of Historic Constructed (all players with 12 or more match points after day 1 advanced to day 2)
Day 2: 7 Rounds of Historic Constructed
Top 8: Historic Constructed

a double elimination bracket played out over two days, meaning on Saturday one player would advance to the championship match—and everyone else would return on Sunday for nonstop elimination matches.
The Top 16 players qualified for the 2020 Season Grand Finals.
Play
[
]
Without a doubt, the tournament-defining deck was "Goblins". Combining Mono-Red and Rakdos variants, which are essentially the same except for a Thoughtseize splash, roughly one-third of the field was trying to leverage the power of Muxus, Goblin Grandee.[5] Uro, Titan of Nature's Wrath and Growth Spiral were the most-played gold cards, forming the backbone of Sultai and Bant decks, the second and fourth most popular respectively; Phyrexian Tower was played in 92 decks despite being a legendary land. Strong white decks were notably lacking, with all constituents being under 7% metagame share, starting with Bant Control at 9 copies.
Day One
[
]
Despite the numbers, it wasn't Goblins that ended up on top in Day 1. Ivan Floch's Jund Sacrifice deck, leaning on the Witch's Oven-Cauldron Familiar engine, had all the tools to manage both its threats and answers effectively in a format as varied as Historic.[6] 81 players made the cut to Day 2.
Day Two
[
]
After the cut, Goblins stayed the top, but the share stayed even; the Thoughtseize was determined a liability for the field, as mono-Red gained the same amount that the Rakdos Goblins dropped. White dropped even further with the Bant Ramp decks losing 83% of its pilots, while some of the minor decks of Mono-Black Gift, Rakdos Arcanist and Mono-Red Aggro put up good conversions. While Sultai gained metagame share and Jund Sacrifice remained steady, the consensus was that Mayhem Devil was one of the strongest cards for the field.
Luis Salvatto lead the field early with Rakdos Arcanist when Floch stumbled over the early rounds, quickly reaching 10-1 and locking his spot early. His final record of 12-1-1 suppressed the field, giving two 10-4 players openings at the end - these were Luis Scott-Vargas with Jund Sacrifice over Floch and Seth Manfield on Sultai Ramp over Chris Kvartek. The second player to lock their spot was Grzegorz Kowalski on Jund Citadel in Round 12. The other four players locked their place in round 13, with Gabriel Nassif on Jund over Kowalski; Matt Nass on Mono-Black Gift over Tiago Fonesca; Ken Yukuhiro on Goblins over Christopher Leonard; and David Steinberg on Jund over Luca Magni.
After the second day, sixteen players had qualified for the 2020 Season Grand Finals:
Jun'ya Iyanaga (17th place) received his invitation as a pass down from Seth Manfield (8th place), who was already qualified through the Players Tour Series 2 Finals.
Concluding the second day of competition, after 14 rounds of battle, eight competitors remained. A format that was deemed wide open at the start of the event proved just that, with five different decks making the Top 8.[7]
Top 8
[
]
Gabriel Nassif won the upper bracket of the top on Saturday over Luis Salvatto, but it was Seth Manfield who, in a first for the Arena double-elimination brackets, took the title from out of the lower bracket.
References
[
]
↑ Wizards of the Coast (May 20, 2020). "What's Next For the Magic Esports 2020 Partial Season". Magic.gg.
↑ a b Wizards of the Coast (July 13, 2020). "Esports Update:2020 Mythic Invitational, Upcoming Announcements and More". Magic.gg.
↑ Wizards of the Coast (April 1, 2020). "Esports Update: MPL, Rivals, and Competitor 2020 Partial Season Changes". Magic.gg.
↑ Meghan Wolff (September 2, 2020). "Truly Historic: Formats Debuts in Magic". Magic.gg.
↑ Frank Karsten (September 9, 2020). "2020 Mythic Invitational Metagame Breakdown". Magic.gg.
↑ Corbin Hosler (September 10, 2020). "2020 Mythic Invitational Day 1 Highlights". Magic.gg.
↑ Corbin Hosler (September 11, 2020). "2020 Mythic Invitational Day 2 Highlights". Magic.gg.