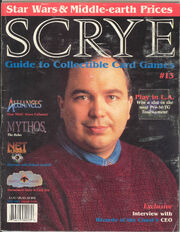 Peter D. Adkison[1] is a game developer, and the founder of game company Wizards of the Coast. Peter Adkison is the current owner of Gen Con. His work includes Primal Order, a "capstone system" for use with any of a number of different role-playing games. From 1993 through 1997 Adkison was CEO for Wizards of the Coast. In September 1999 he sold Wizards of the Coast to Hasbro.[1]
As of 2005, he is CEO of the relatively new Hidden City Games and working to promote their new game Clout Fantasy. Adkison is a long time fan of role-playing games in general and Dungeons & Dragons specifically.
Background
[
]
As a child Adkison played strategy games and war games.[2] In 1978 he was exposed to Dungeons & Dragons]] which "blew [him] away."[2] He has a Dungeons & Dragons campaign named Chaldea that he has run since 1981.[2] As of 2002, Adkison was running two Dungeons & Dragons campaigns and playing in three.[3] He enjoys a wide variety of games including Magic: the Gathering, Twitch, Settlers of Catan, Robo Rally, Call of Cthulhu, Vampire: The Masquerade, and the Legend of the Five Rings Roleplaying Game.[2]
Career
[
]
Adkison received a bachelor of science in computer science from Walla Walla College in 1985.[1] Adkison has an MBA from the University of Washington. From 1985 through 1991 he worked as a systems analyst for Boeing.[1]
While working for Boeing he was involved in the founding of Wizards of the Coast.[1][5] With the Success of Magic: the Gathering, Peter began working full-time for Wizards of the Coast.[1] As CEO of Wizards of the Coast, he presided over Wizards purchase of TSR, Inc.. Game designer Ed Stark says Adkison said, "Look, computer gaming is the future of roleplaying. We've got to get involved in this."[6] In 1997 Vince Caluori took over Adkison's role as CEO and President of Wizards of the Coast.
In September 1999 Adkison sold Wizards of the Coast to Hasbro.[1][7] He entered "semi-retirement" engaging in rock-climbing and "lying around".[8] In May 2002 Adkison purhased Gen Con from Hasbro.[8] Adkison had been attending Gen Con since 1992.[8] Adkison claims to have "always loved" Gen Con.[3]
Peter Adkison is married to Melissa Reis Adkison.
Notes
[
]
References
[
]
External links
[
]