Fire Emblem Warriors: Three Hopes - The Loop
Play Sound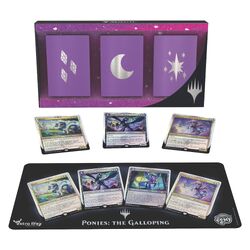 Ponies: The Galloping is a three-card silver-bordered charity card set for Magic: The Gathering that is a crossover with Hasbro's My Little Pony franchise. The card set was sold for $50.00, starting October 22, 2019.[2][3] The cards were designed by Chris Mooney.[4]
The set was a precursor to the Secret Lair and Universes Beyond product ranges.
Description
[
]
This was the second crossover set for Magic: the Gathering, with the first being the 2017 HASCON promos. The cards included in this set are Rarity, the double-faced Nightmare Moon/Princess Luna, and Princess Twilight Sparkle. The three unique cards aren't tournament legal, and wouldn't function very well even in casual play (with the possible exception of Nightmare Moon/Princess Luna, who can allow you to play cards that depict a moon in the artwork, such as Blood Moon, Magus of the Moon, Tamiyo the Moon Sage, and Imprisoned in the Moon among other cards from outside of the game). For instance, one card references other cards that don't actually exist in the game, one requires the player to use a My Little Pony toy, and another has an ability that makes other players "become your friend."
The set introduces the silver-bordered Alicorn creature type, Princess Twilight Sparkle is a lord for alicorns, unicorns, horses, pegasuses and (obsoleted) ponies.
Details
[
]
Ponies: The Galloping was sold exclusively on HasbroPulse.com, with deliveries being limited to the USA and Canada. It was available from October 22, 2019 – November 5, 2019, celebrating the series finale of My Little Pony: Friendship Is Magic. A donation of $30.00 per card set was made to Extra Life to benefit the Seattle Children's Hospital.[5]
Apart from the cards, there was also a set of Ultra PRO playmats that were sold for $100 USD, with $80 (of that total 100) donated to Seattle Children's Hospital. The Ponies: The Galloping Playmats bundle included 3 playmats (2 single-sided playmats and 1 double-sided playmat). These were also be available from Hasbro Pulse - and nowhere else - for that limited period of time.
In addition, there were four digital Ponies: The Galloping sleeves available in the Magic: The Gathering Arena game from October 22 to November 2 for around $4 USD.
References
[
]