GTA: The Criminal Enterprises - The Loop
Play Sound
Raphaël Lévy

Demographics
Nickname
hahamoud
Born
September 25, 1981
Residence
Toulouse, France
Nationality
French
Professional Career
Pro Tour debut
Pro Tour Paris 1997
Top Finishes
6 (0 wins)
GP top 8s
23 (6 wins)
Awards
Hall of Fame
Raphaël Lévy is a French professional Magic player.
Professional play
[
]
Lévy holds the record for most Pro Tours attended ( as of Mythic Championship Cleveland 2019) and lifetime Pro Points. His other significant results include three Pro Tour top eights, six Grand Prix wins, and winning the 2013 World Magic Cup as the captain of the French team. In 2006, he was inducted into the Magic: The Gathering Hall of Fame.
As a Top 4 Challenger, he won a place in the 2020 Magic Pro League. At the Players Tour 2 Finals, he posted his first individual Top Finish in 13 years, coming in 8th. Despite that, after the 2020-21 season he was relegated to the Rivals League.
League play
[
]
Accomplishments
[
]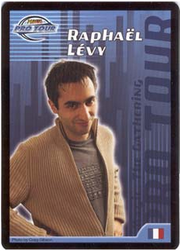 → Source: Wizards.com
Pro Tour Results
[
]
List of the Pro Tour results and winnings of Raphaël Lévy

| Season | Pro Tour | Format | Finish | Winnings |
| --- | --- | --- | --- | --- |
| 1996–97 | Paris | Block Constructed | 130 | |
| 1996–97 | Worlds (Seattle) | Special | 53 | $500 |
| 1997–98 | Mainz | Rochester Draft | 12 | $3,310 |
| 1997–98 | Los Angeles | Block Constructed | 149 | |
| 1997–98 | Worlds (Seattle) | Special | 4 | $8,000 |
| 1998–99 | Chicago | Booster Draft | 108 | |
| 1998–99 | Rome | Extended | 22 | $1,840 |
| 1998–99 | Los Angeles | Rochester Draft | 117 | |
| 1998–99 | New York | Block Constructed | 167 | |
| 1998–99 | Worlds (Tokyo) | Special | 87 | |
| 1999–00 | Washington, D.C. | Team Limited | 23 | |
| 1999–00 | London | Booster Draft | 17 | $2,440 |
| 1999–00 | Chicago | Extended | 4 | $8,000 |
| 1999–00 | Los Angeles | Booster Draft | 245 | |
| 1999–00 | New York | Block Constructed | 55 | $460 |
| 1999–00 | Worlds (Brussels) | Special | 15 | $3,070 |
| 2000–01 | New York | Team Limited | 34 | |
| 2000–01 | Chicago | Standard | 54 | $600 |
| 2000–01 | Los Angeles | Rochester Draft | 71 | |
| 2000–01 | Tokyo | Block Constructed | 55 | $590 |
| 2000–01 | Barcelona | Booster Draft | 80 | |
| 2000–01 | Worlds (Toronto) | Special | 266 | |
| 2001–02 | New York | Team Limited | 12 | $1,200 |
| 2001–02 | New Orleans | Extended | 29 | $1,400 |
| 2001–02 | San Diego | Rochester Draft | 50 | $660 |
| 2001–02 | Osaka | Block Constructed | 43 | $800 |
| 2001–02 | Nice | Booster Draft | 317 | |
| 2001–02 | Worlds (Sydney) | Special | 16 | $3,250 |
| 2002–03 | Boston | Team Limited | 20 | $400 |
| 2002–03 | Houston | Extended | 203 | |
| 2002–03 | Chicago | Rochester Draft | 84 | |
| 2002–03 | Venice | Block Constructed | 117 | |
| 2002–03 | Yokohama | Booster Draft | 66 | |
| 2002–03 | Worlds (Berlin) | Special | 145 | |
| 2003–04 | Boston | Team Limited | 51 | |
| 2003–04 | New Orleans | Extended | 79 | |
| 2003–04 | Amsterdam | Rochester Draft | 333 | |
| 2003–04 | Kobe | Block Constructed | 27 | $1,600 |
| 2003–04 | San Diego | Booster Draft | 50 | $660 |
| 2003–04 | Seattle | Team Limited | 23 | |
| 2003–04 | Worlds (San Francisco) | Special | 51 | $645 |
| 2005 | Colombus | Extended | 74 | |
| 2005 | Nagoya | Rochester Draft | 173 | |
| 2005 | Atlanta | Team Limited | 90 | |
| 2005 | Philadelphia | Block Constructed | 159 | $200 |
| 2005 | London | Booster Draft | 184 | |
| 2005 | Los Angeles | Extended | 14 | $3,800 |
| 2005 | Worlds (Yokohama) | Special | 50 | $660 |
| 2006 | Honolulu | Standard | 355 | |
| 2006 | Prague | Booster Draft | 211 | |
| 2006 | Charleston | Team Constructed | 9 | $2,100 |
| 2006 | Kobe | Booster Draft | 122 | |
| 2006 | Worlds (Paris) | Special | 14 | $4,500 |
| 2007 | Geneva | Booster Draft | 33 | $1,300 |
| 2007 | Yokohama | Block Constructed | 6 | $11,000 |
| 2007 | San Diego | Two-Headed Giant Booster Draft | 117 | |
| 2007 | Valencia | Extended | 349 | |
| 2007 | Worlds (New York) | Special | 15 | $3,500 |
| 2008 | Kuala Lumpur | Booster Draft | 19 | $3,000 |
| 2008 | Hollywood | Standard | 57 | $580 |
| 2008 | Berlin | Extended | 59 | $560 |
| 2008 | Worlds (Memphis) | Special | 36 | $1,150 |
| 2009 | Kyoto | Standard and Booster Draft | 26 | $1,800 |
| 2009 | Honolulu | Block Constructed and Booster Draft | 19 | $3,000 |
| 2009 | Austin | Extended and Booster Draft | 14 | $4,500 |
| 2009 | Worlds (Rome) | Special | 52 | $630 |
| 2010 | San Diego | Standard and Booster Draft | 234 | |
| 2010 | San Juan | Block Constructed and Booster Draft | 328 | |
| 2010 | Amsterdam | Extended and Booster Draft | 31 | $1,400 |
| 2010 | Worlds (Chiba) | Special | 70 | $450 |
| 2011 | Paris | Standard and Booster Draft | 49 | $675 |
| 2011 | Nagoya | Block Constructed and Booster Draft | 11 | $6,000 |
| 2011 | Philadelphia | Modern and Booster Draft | 219 | |
| 2011 | Worlds (San Francisco) | Special | 20 | $2,800 |
| 2012 | Dark Ascension in Honolulu | Standard and Booster Draft | 47 | $1,500 |
| 2012 | Avacyn Restored in Barcelona | Block Constructed and Booster Draft | 80 | |
| 2012–13 | Return to Ravnica in Seattle | Modern and Booster Draft | 97 | |
| 2012–13 | Gatecrash in Montreal | Standard and Booster Draft | 19 | $2,500 |
| 2012–13 | Dragon's Maze in San Diego | Block Constructed and Booster Draft | 37 | $1,500 |
| 2013–14 | Theros in Dublin | Standard and Booster Draft | 40 | $1,500 |
| 2013–14 | Born of the Gods in Valencia | Modern and Booster Draft | 337 | |
| 2013–14 | Journey into Nyx in Atlanta | Block Constructed and Booster Draft | 22 | $2,500 |
| 2013–14 | Magic 2015 in Portland | Standard and Booster Draft | 29 | $1,500 |
| 2014–15 | Khans of Tarkir in Honolulu | Standard and Booster Draft | 28 | $1,500 |
| 2014–15 | Fate Reforged in Washington, D.C. | Modern and Booster Draft | 81 | |
| 2014–15 | Dragons of Tarkir in Brussels | Standard and Booster Draft | 31 | $1,500 |
| 2014–15 | Magic Origins in Vancouver | Standard and Booster Draft | 98 | |
| 2015–16 | Battle for Zendikar in Milwaukee | Standard and Booster Draft | 122 | |
| 2015–16 | Oath of the Gatewatch in Atlanta | Modern and Booster Draft | 74 | $1,000 |
| 2015–16 | Shadows over Innistrad in Madrid | Standard and Booster Draft | 309 | |
| 2015–16 | Eldritch Moon in Sydney | Standard and Booster Draft | 29 | $1,500 |
| 2016–17 | Kaladesh in Honolulu | Standard and Booster Draft | 30 | $2,000 |
| 2016–17 | Aether Revolt in Dublin | Standard and Booster Draft | 130 | |
| 2016–17 | Amonkhet in Nashville | Standard and Booster Draft | 79 | |
| 2016–17 | Hour of Devastation in Kyoto | Standard and Booster Draft | 94 | |
| 2017–18 | Rivals of Ixalan in Bilbao | Modern and Booster Draft | 100 | |
| 2017–18 | Dominaria in Richmond | Standard and Booster Draft | 51 | $1,000 |
| 2017–18 | 25th Anniversary in Minneapolis | Team Constructed | 46 | $2,000 |
| 2018–19 | Guilds of Ravnica in Atlanta | Standard and Booster Draft | 421 | |
| 2018–19 | Mythic Championship Cleveland 2019 | Standard and Booster Draft | 44 | $1,500 |
→ Source: Wizards.com
External links
[
]
References
[
]