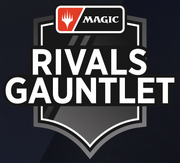 The Rivals Gauntlet is a Magic Esports tournament that will be organized at the end of each regular Rivals League season.[1]
Final league standings at the end of the season, after seven total League Weekends, will place players into postseason Gauntlet to determine the new invitees to the league.
2020–21 Players Tour Season
[
]
Participants
[
]
The 24 participants for the 2020-21 Rivals League Gauntlet were defined as follows:
13th through 16th in MPL standings from the end of the season.
21st through 32nd in Rivals League standings from the end of the season.
5th through 12th places from the Challenger Gauntlet.
Results
[
]
The winner qualifies for Magic World Championship XXVII.
Top 4 receive invitation to the MPL for the following season.
All other players will be invited to the Rivals League for the following season.
2021 cancellation
[
]
In May 2021, Magic Esports announced a return to in-person play post COVID-19 for the 2022–23 Players Tour Season.[2] Although digital play was considered here to stay it was supposed to be only part of the equation going forward. As a result, the 2021–22 Players Tour Season is going to be the last season featuring the MPL and the Rivals League. Players will not be competing for another League season. Instead, they'll be competing for a place in the World Championship.
League Weekends and the Gauntlets will not be run in 2021–2022.[2]
References
[
]