Raise a Floppa - The Loop
Play Sound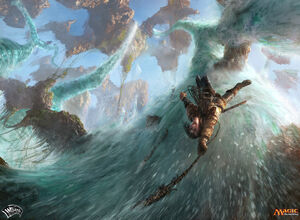 The Roil is the periodic volatility of the earth and climate, resulting from Zendikar's unique brand of mana.
Description
[
]
The Roil changes the land and is the reason why the plane remains untamed and deadly. Because it is magical in nature, the Roil affects biology as well as geology and meteorology.
Effects
[
]
The effects of the Roil include:
Rock crags. Large boulders and shards of rock erupting from the earth
Extreme weather like dust storms and tornadoes.
Floods and tidal waves.
Sinkholes.
Noxious gas geysers.
Meteoric growth ("Life Blooms").
Tectonic shifts and earthquakes.
Occasionally the Roil animates as elementals. Lullmages and roilmages are elementalists who are able to influence the effects of the roil.
History
[
]
The Roil was originated by the plane itself as a defense system against the Eldrazi when these creatures first walked the plane. For those born on Zendikar, the Roil seemed a natural phenomenon — just the way things were. To planeswalkers, it was obvious that this volatility was what keeps Zendikar dangerous, untamed, and without well-developed civilizations.
During the Rise of the Eldrazi, the Roil intensified, and it soon became clear that the Roil was Zendikar's own effort to purify itself of corruption. In their fight against the Eldrazi, the elementalists led by Noyan Dar used the Roil as a weapon.[1]
Like an inflammation that persists after the infection is gone, the Roil remains active even after the destruction of the Eldrazi, and it remains one of the greatest hazards to adventurers who brave the wilds of Zendikar.[2][3] Directly after the defeat of the Eldrazi, it seemed to be gone. But then it slowly began to return.[4]
The guilt-ridden planeswalker Nahiri sought to destroy the Roil, setting her in a path of conflict with Nissa Revane, who had befriended Zendikar's elementals. In the end, Nissa Revane prevailed, and restored the soil and wild nature of Zendikar by use of the Lithoform Core.[5] It is as yet unclear if this healing also calmed down the Roil.
In-game references
[
]
Represented in:
Associated cards:
Referred to:
References
[
]
External links
[
]