Set Information
Set symbol
Symbol description
Shooting star
Release date
2022
Set size
TBA
Expansion code
SLD[1]
Secret Lair Drop Series
Street Fighter is an upcoming drop of cards in the Secret Lair product range and a continuation of the Secret Lair Drop Series. It is also part of the Universes Beyond product line. The drop is to be released in 2022.[2]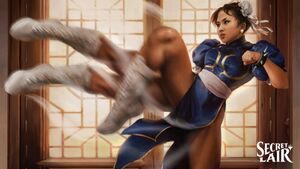 Description
| | |
| --- | --- |
| | This article or section discusses story elements that are not canonical. |
This set is a tie-in with Street Fighter, the Japanese competitive fighting video game franchise developed and published by Capcom. Many martial artists compete in a worldwide martial arts tournament. The main games have introduced a varied cast of around 80 characters into video game lore, plus around another 30 in spin-off games. The playable roster of international characters each have a unique fighting style. One of the cards features Chun-Li, the first female playable character of any fighting game franchise to gain mainstream recognition.
The release of this drop - featuring the iconic characters of the game - coincides with the 35th anniversary of the Street Fighter in May 2022.
Card list
| Drop | Card number | Card/Token | Artist | Notes |
| --- | --- | --- | --- | --- |
| Street Fighter | TBA | TBA | Martina Fačková | Mechanically unique with Multikicker. Depicts Chun-Li. |
Bonus card
TBA
In-multiverse reprints
Wizards of the Coast will create and print in-multiverse versions of the Street Fighter cards, approximately six months (the exact time may vary) after the release of the Secret Lair.[3] These will become available as part of The List, findable in Set Boosters for as long as players are still interested in opening them. The non-canon cards and the canon cards will be considered as equivalent game pieces, meaning you can only play four copies (or one copy) of either the Magic version or Universes Beyond version in your deck. There will be a special card treatment that indicates that the cards are related.[4]
References