Secret Lair Drop Series: The Walking Dead
The Walking Dead is a drop of cards in the Secret Lair product range and a continuation of the Secret Lair Drop Series.[2] It became available for pre-order purchase from the Wizards of the Coast webshop secretlair.wizards.com from October 4th through October 12th, 2020. The price is $49.99.[3]
This set is a tie-in with The Walking Dead franchise, which includes a comic book series, television series, web series, films, novels, video games, and various other media such as audiobooks and soundtracks. It features a post-apocalyptic world where the undead, known as walkers, have taken over. Entertainment One, the producing company of The Walking Dead, is owned by Hasbro. Hasbro is also the owner of Wizards of the Coast.
The foil cards included in this very special Secret Lair drop are completely new to Magic, depicting the iconic characters of the long-running and critically acclaimed TV series. These are mechanically unique cards that are legal in Eternal formats. Each of the cards have mechanics that are inspired by either the characters or the elements of The Walking Dead universe that they represent.[4] This drop also comes with five Zombie tokens, each an important walker from the show, and one Treasure token.
When you ordered the Secret Lair Drop, you'd also get a single-use code that added the same cards from the physical product to your Magic Online account.[5]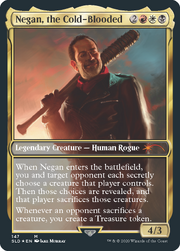 Daryl's and Michonne's cards refer to "Walker tokens" in their rules text, without defining what a Walker is. Although clearly intended to be a black 2/2 zombie named Walker, this is currently not covered by the Comprehensive Rules.[7]
In contrast to most of the other Secret Lair drops so far, this product doesn't contain one of the 36 stained-glass War of the Spark planeswalkers as a bonus card. It is replaced by a legendary artifact called Lucille (Negan's weapon of choice) with art by Jason Felix. It is numbered #541 (it is numbered in sequence with the stained-glass walkers and the white-border Tibalt from Secret Lair Drop Series: April Fools).
| | | |
| --- | --- | --- |
| "  | Miss a Drop. It's Gone. |  " |
The fact that the set features unique cards instead of reprints (like the Secret Lair series originally was envisioned), garnered a lot of criticism.[8][9][10][11] People argued that the cards should have been silver-bordered or that the double-naming technique used for the Ikoria: Lair of Behemoths Box Toppers should have been used.[12][13] In response, Wizards of the Coast argued that the Magic version (same card mechanically, but with a Magic name and art) could be printed in any number of future products.[14][15][16][17]
Even though the reaction among the fans was very negative, the Walking Dead was the best selling drop, luring in buyers from outside of the Magic world. This prompted the company to keep on experimenting in this realm.[18]
Magic: The Gathering
sets
Special sets
Special series

Supplemental sets

Starter sets

Un sets

Commemorative sets