Raise a Floppa - The Loop
Play Sound
Shards of Alara

Set Information
Set symbol
Symbol description
5 shards of a plane
Design
Bill Rose (design lead),
Devin Low (development lead),
Aaron Forsythe,
Mark Globus,
Mark Gottlieb,
Graeme Hopkins,
Alexis Janson,
Erik Lauer,
Michael Mikaelian,
Kenneth Nagle,
Matt Place,
Mark Rosewater,
Brian Tinsman,
Mike Turian,
Noah Weil
Development
same as Design Team
Art direction
Jeremy Jarvis
Release date
October 3, 2008
Plane
Alara
Themes and mechanics
Three-color play, colored artifacts, large creatures
Keywords/​ability words
Cycling, Devour, Exalted, Unearth
Set size
249 + 1
Expansion code
ALA[1]
Development codename
Rock
Alara block
Magic: The Gathering Chronology
Shards of Alara is the forty-seventh Magic expansion and was released October 2008 as the first set in the Alara block. The prerelease events for this set were held on September 27–28, 2008. Release events were held on October 3, 2008, the same day the set went on sale.[2]
Set details
[
]
Shards of Alara was the first set to follow a new packaging policy, which amongst other things introduced a new rarity level called mythic rare, as well as the replacement of one of the commons in a booster pack with a basic land (the first time this was done outside of a core set). After evaluating the set sizes, Wizards of the Coast decided that card sets would be smaller than they had traditionally been. Initial sets of a block were now 249 cards (101 commons, 60 uncommons, 53 rares, 15 mythic rares, 20 basic lands) instead of the approximately 300 cards of previous expansions.[3] Shards of Alara heralded the return of planeswalker cards, and introduced the first multicolored planeswalkers.
Shards of Alara design was anything but typical. Design lead Bill Rose assembled no fewer than fifteen people on five teams, one for each of the five three-color shards. Each of the five shards has its own game play themes, and its own stable of artists.[4] The expansion symbol of the set is a representation of the five shards.[5]
In light of the flavor of the shards, Shards of Alara launch parties (October 3–6, 2008) were Wizards Play Network events that featured a new format: the Theme Tournament. Designed to highlight the fun and flavorful aspects of the set, the Theme Tournaments had the same structure as the prerelease tournaments (Sealed Deck format in which each player receives one tournament pack and three boosters), with a few additional rules. As players build their decks, they had to choose one of the five shards (Bant, Esper, Grixis, Jund, or Naya). The mana cost of each card in a player's deck could contain only mana symbols that matched the chosen shard's three colors (mana symbols in a card's text box were ignored). Colorless cards could be played in any deck. In addition, a deck could not generate mana outside its shard's colors. Any card which would generate mana of a color that doesn't match the chosen shard generates colorless mana instead.[6]
Collector numbers
[
]
Shards of Alara contains many colored artifacts. These cards were sorted alphabetically into their color when determining collector numbers. For example, the colored artifact Executioner's Capsule (which requires

to cast) is placed alphabetically between the black cards Dregscape Zombie and Fleshbag Marauder. Colored artifacts which require multiple colors are alphabetized among the multicolored cards. As usual, the artifacts which have a generic mana cost are alphabetized together and appear numerically between the multicolored cards and the nonbasic lands.
Fourteen years after the release of the set, The List for Streets of New Capenna added a new collector number (#250) to the set with a special non-foil Rafiq of the Many featuring new art and the Streets of New Capenna Golden Age treatment.[7] This card notably lacks the usual List planeswalker symbol in the lower left corner.
Flavor
[
]
| | | |
| --- | --- | --- |
| "  | Five worlds share one fate. |  " |
Alara was a single plane once, a massive world rich with mana. However, those same resources led to its downfall, for an unknown planeswalker tore the plane asunder millennia ago, harvesting it of its mana.[8] This disaster broke Alara along color lines into incomplete planes called shards, as light is diffracted by a prism. The shards recovered their mana in time, but only in part. Each shard is vastly different, as the combinations of triple-colored mana have shaped natural and cultural forces on each world in distinctive ways.[9][10][11][12][13][14]
Planes Explorer

[

]
Planes Explorer is a Flash object that allows one to explore the flavor of the five shards of Alara.
Marketing
[
]
Shards of Alara was sold in 75-card tournament decks, 16-card boosters, five intro packs, and a fat pack.[15] It was the last set to feature tournament decks; in these, any number of the usual rares could have been replaced with mythic rares. The intro packs replaced the traditional preconstructed theme decks and the 2-Player Starter Set. The fat pack's content was changed replacing the novel with a brief introduction of the expansion's respective novel or Planeswalker's Guide. The Pro Tour Player Cards were discontinued. The Alara block was accompanied by only one novel: Alara Unbroken, written by Doug Beyer and the Planeswalker's Guide to Alara, written by Doug Beyer and Jenna Helland.
The promotional card given to participants at both the prerelease and release events was Ajani Vengeant, one of the mythic rare planeswalkers, with alternate artwork.[16]
Starting with the Shards of Alara set, each booster pack contained the following: one basic land,[17] ten commons, three uncommons, one rare or mythic rare, and 1 non-game marketing card. If the pack happened to contain a foil premium card, it would do so in place of one of the commons, regardless of that premium card's rarity. (Every game card in the set can appear as a regular card or as a premium card).[18] The boosters featured artwork from Steward of Valeron (with white background), Sphinx Sovereign (with blue background), Sedris, the Traitor King (with black background), Hellkite Overlord (with red background) and Godsire (with green background).[19] An all-foil booster pack containing cards from Shards of Alara and the other two sets of the block was released on January 8, 2010.[20]
The sixteenth card in the boosters is either a "flavor/shard card", instead of the usual "rules card", or a creature token. One face has one of five shard flavor cards or is one of ten different creature tokens. The other face has one of six advertisements for organized play programs, Conflux, Duel Decks: Jace vs. Chandra, fat packs, magicthegathering.com, Magic Online, A Planeswalker's Guide to Alara, and Ultra Pro products for Magic.
Tips & Tricks
[
]
The tips & tricks cards are:
Tokens
[
]
The Shards of Alara tokens are:[21][22]
Mechanics
[
]
Though the set as a whole has multicolored cards as an overarching theme, due to the setting being split into five "shards" with no contact with each other, each shard was given its own distinct mechanical theme.
Shards of Alara also featured the return of cycling for the third time (or fourth, including Future Sight) since the Urza block.
Cycles
[
]
Shards of Alara has 19 cycles: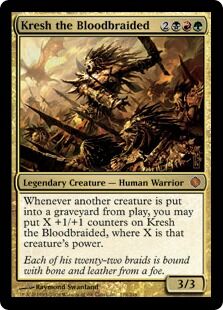 Mini-cycles
[
]
Shards of Alara has 5 cycles of three cards, each missing the two colors not associated with its shard:
Mega cycle
[
]
Pairs
[
]
Shards of Alara has one mirrored pair.
Mirrored Pairs
Description
Marble Chalice
()
Onyx Goblet
()
Common artifacts that cost M, and have a tap ability. The former causes you to gain one life, whilst the latter causes a player to lose one life.
Reprinted cards
[
]
The following cards have been reprinted from previous sets and included in Shards of Alara:
Functional reprints
[
]
This is the first expansion set to have functional reprints since Lorwyn. Shards of Alara has three functional reprints:
Colorshifted
[
]
Misprints
[
]
Notable cards
[
]
Intro packs
[
]
Previous to Shards of Alara, there were theme decks. Intro packs premiered in Shards of Alara. All of the intro packs are 3 colors based on their shard.[38][39]
Intro pack contents included:
a 41-card preconstructed deck, which included 1 premium foil rare and one non-premium rare
a booster pack of the current set
a set-specific insert explaining the new mechanics in the set and info on the preconstructed decks included in the intro packs
a learn-to-play insert for new players that includes game rules, deck building tips, and storyline information
The preconstructed intro packs are:[40][41]
Shard cards
[
]
Answering to an Ask Wizards, on October 16, 2008, Brady Dommermuth[42] gave a list of all the Shards of Alara cards belonging to each of the five shards. Here is the list.
| Bant | Esper | Grixis | Jund | Naya |
| --- | --- | --- | --- | --- |
| | | | | |
| | | | | |
References
[
]
External links
[
]