Fire Emblem Warriors: Three Hopes - The Loop
Play Sound
Sixth Edition (6th Edition), also known as Classic, is a Magic Core Set that was released in April 1999. Major rule changes occurred with the release of 6th Edition.
Set details
[
]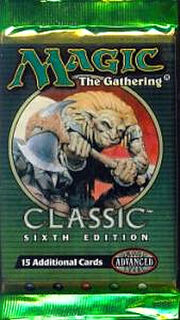 Classic Sixth Edition contained a total of only 350 cards, compared to the 449 of Fifth Edition (110 Common, 110 Uncommon, 110 Rare, 20 Basic Land). The set for the first time added reprints from Alliances, Mirage, Visions and Weatherlight to the mix. It was the first English-language core set to have an expansion symbol (Roman numeral VI), color-coded for rarity. It also used the collector numbers first introduced in Exodus. Furthermore, it was the first core set to have its artist information centered on the card (a printing practice also started in Exodus). The rules text on basic lands was replaced with just a mana symbol, as previously seen featured in the Portal sets of 1997 and 1998.[3] No cards with trample were printed in Sixth Edition.
Rules changes
[
]
The Sixth Edition rules were the largest rules change the game had ever seen. R&D and the top rules experts knew there had been problems with the rules for years. They also knew they were needlessly complicated.[4] A lot of excess complication had been removed in earlier versions of the rules, but it wasn't deemed enough. The aim of the current rules change was to reduce the amount of rules, maintain Magic strategy, and make the rules more intuitive. The developers also wanted to fix the rules problem once and for all. They didn't want to revamp Magic rules ever again. When the Classic (Sixth Edition) rules were introduced, they were highly debated. Some players thought them to be further proof that the rules were being "dumbed down".[5]
A player who reached 0 life now lost immediately instead of waiting until the end of a phase.
Interrupts and mana sources were removed, with all old interrupt and mana source cards receiving errata to make them instants.
The effect "is unaffected by summoning sickness" was keyworded to haste.
Most tapped artifacts no longer had their abilities turned off.[6] Those that still had their abilities turned off received errata so that it was an ability of the card rather than a feature of the card type.
Tapped blocking creatures now dealt combat damage just like untapped ones.
The type line on creature cards was changed so that each word on it counted as a separate creature type, allowing creature cards to have multiple subtypes without needing extra rules text. Artifact creatures with creature types also had their creature type printed on their type line, rather than having it stated in their rules text.
Marketing
[
]
The name "Classic" was prominently featured on products, and the set was referred to by both titles by Wizards of the Coast as well as the players.[7][8] Classic Sixth Edition cards were sold in 15-card boosters, and - as the first core set - in 75 card tournament decks (including 3 rares, 10 uncommon, 32 common, 30 land, and a rule sheet). The set was supplemented with a special 2-Player Starter Set. The Sixth Edition 2-Player Starter Deck included two 40-card, ready to play decks, a play guide and a rulebook. The Classic set featured only one piece of art on the boosters, which was notable for not being featured on any card. The accompanying Official Classic Game Strategy Guide provided strategy tips and an overview of the new rules.
In order to comply to strict regulations from the Chinese government concerning the depiction of skeletons, an altered version of Unworthy Dead from Urza's Saga was reused for the Chinese Sixth Edition Drudge Skeletons.[9]
Cycles
[
]
Sixth Edition has five cycles:
Core set changes
[
]
Notable changes
References
[
]
External links
[
]