Fire Emblem Warriors: Three Hopes - The Loop
Play Sound
Skeleton

Creature Type
(Subtype for creature/tribal cards)
Statistics

63 cards

3.2% 74.6% 3.2% 1.6% 4.8% 4.8% 1.6% 6.3%

as of Commander Legends: Battle for Baldur's Gate
Scryfall Search
type:"Skeleton"
A Skeleton is comprised of the bones of a creature. In Magic, the creature type is used for cards that depict the magically animated bones of deceased creatures.
Description
[
]
Skeletons are, with two exceptions in Viashino Skeleton and Golgari Grave-Troll, a mono-Black aligned "race". All multicolored Skeletons are all also partially black, though Deathless Knight can be cast for all-green. Skeletons were intertwined with the mechanical ability to keep coming back, originally closely associated with the ability Regeneration until its deprecation - now R&D tends to give them some kind of limited self reanimation.[1]
Most often Skeletons are of Human origin, but that subtype is never added. This is shared with Zombie, Spirit and Illusion as being both a race and a class. Known Skeletons include Dragons, Crocodiles, Snakes, Wurms and Walls.
Altered Chinese art
[
]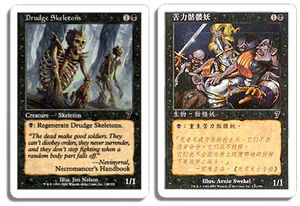 The People's Republic of China frowns on the public display of human or humanoid skeletons and Magic cards are no exception. For this reason the artwork of many Chinese-language cards depicting skeletons, though not necessarily of the type skeleton, had to be altered to make it possible to sell the product.[2][3][4][5][6][7][8][9][10] This practice was abandoned for Shards of Alara. While skeletons are still not exactly "polite," they have turned more into an unlucky symbol that the older generation reacts much more strongly to than the younger, games-playing population.[11]
Notable Skeletons
[
]
Dominaria
New Phyrexia
Theros
Trivia
[
]
Tokens
[
]
Token Name
Color
Type Line
P/T
Text Box
Source
Printings
Skeleton
Black
Creature — Skeleton
1/1
: Regenerate this creature.
Black
Creature — Skeleton
1/1
Black
Creature — Skeleton
4/1
Menace
References
[
]