Skeleton
Skeleton

Creature Type
(Subtype for creature/tribal cards)

Statistics

54 cards

75.9% 1.9% 1.9% 5.6% 5.6% 1.9% 7.4%

as of Zendikar Rising
Scryfall Search
type:"Skeleton"
A Skeleton is comprised of the bones of a creature. In Magic, the creature type is used for cards that depict the magically animated bones of deceased creatures.
Skeletons are with two exceptions, Viashino Skeleton and Golgari Grave-Troll, Black. There are also the two multicolored cards Skeleton Ship and Kathari Remnant which are also Blue. Skeletons are closely associated with the ability Regeneration.
Most often Skeletons are of Human origin, but that subtype is never added. This is different with other creatures. Known Skeletons include Dragons, Crocodiles, Snakes, Wurms and Walls.
Skeletons have become intertwined with the mechanical ability to keep coming back. In Alpha, it started with regeneration but now R&D tends to give them some kind of limited self reanimation.[1]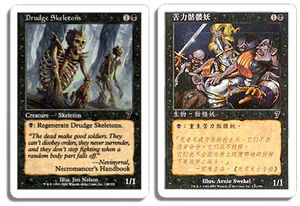 The People's Republic of China frowns on the public display of human or humanoid skeletons and Magic cards are no exception. For this reason the artwork of many Chinese-language cards depicting skeletons, though not necessarily of the type skeleton, had to be altered to make it possible to sell the product.[2][3][4][5][6][7][8][9][10] This practice was abandoned for Shards of Alara. While skeletons are still not exactly "polite," they have turned more into an unlucky symbol that the older generation reacts much more strongly to than the younger, games-playing population.[11]
Dominaria
New Phyrexia
Theros
Mechanically Themed

Majority

Majority

Majority

Majority

Majority

Majority

Multicolor
Mechanically Themed

Token Specific

General